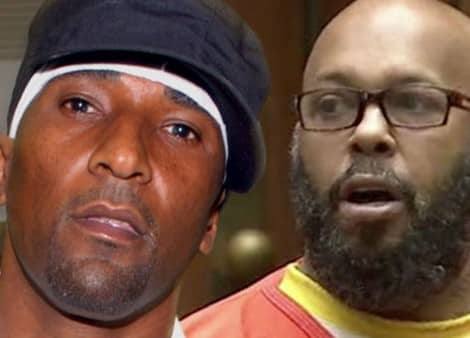 Cle "Bone" Sloan, who was run over by Suge Knight, refused to be a "snitch" when called to the stand in criminal court yesterday.
"I will not be used to send Suge Knight to prison," said Sloan, an adviser on the upcoming film "Straight Outta Compton."
Sloan's testimony was offered Monday during a preliminary hearing during which a judge will determine whether there's enough evidence for Knight to stand trial on murder, attempted murder, and hit-and-run charges.
Sloan told prosecutors in court that he was only on the stand because he was subpoenaed. He refused to identify Knight as the man behind the wheel when he was struck outside a Compton burger stand on Jan. 29. He said he does not want to be a "snitch."
In the middle of his testimony, prosecutors granted Sloan immunity, but he still refused to identify Knight. He did admit, however, that he was upset with Knight and punched him through the window of the truck before the deadly encounter that killed Carter.
In an audio interview with detectives that was played in court Monday, Sloan said that he fought with Knight on the movie set of "Straight Outta Compton" and coincidentally ran into him again at Tam's Burgers. Sloan said after he punched Knight in the face, all he remembers is hitting the ground at some point but doesn't recall how he got there. He said the next thing he does remember is seeing Carter on the ground.
"It just got to a point where it came to blows. I think both people were physically hitting each other, but hitting each other and running people over are two different things," Sloan's lawyer Stephen Bernard said.
Sloan suffered two fractured ankles, a serious cut to his head, two torn ligaments in his knees and a shoulder injury. "Every day, I tried to forget it," Sloan said. "I just know, I screwed up, and Terry's dead."
Suge faces up to life in prison if convicted of killing Carter. Knight is being held on $25 million bail, an amount his lawyer has argued is excessive.