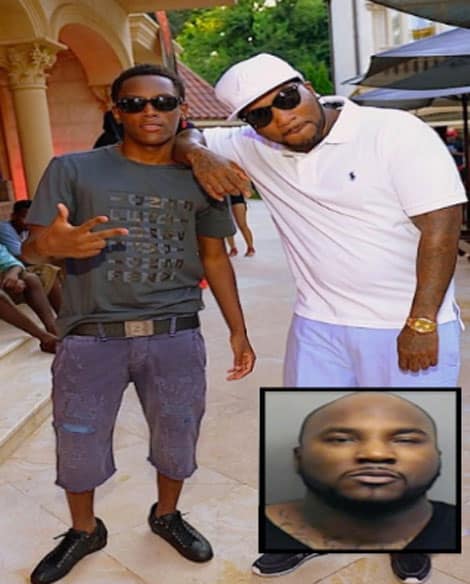 "Jeezy's son claims his dad said, "I will kill you," adding, "If I could get away with it, I would kill you."
The phrase 'I brought you into this world, and I'll take you out' seems to be a statement Jeezy takes literally. Don't believe me.. Just ask the "R.I.P." rapper's 17-year-old son, Jadarius. The aspiring teen rapper — who goes by the name 'Lil Jeezy' — stated Jeezy Sr. threatened to "put a bullet" in his head, while Jeezy's bodyguard reportedly blocked the teen from escaping a bloody beat-down at the hands of his Roc Nation-connected father.
"Jeezy got into a fight with his son in a bathroom and he threw his son into the glass shower door, causing the son to hit his head. Then Jeezy allegedly punched him in the face, dragged him into the bedroom, threw him on the bed and pummeled him. Jeezy subsequently choked his son."
Police docs reveal the incident went down back in September 2012. That would have been about two-months after Jeezy threw a lavish birthday bash at a Buckhead, ATL mansion for Jadarius' 'Sweet 16' … Just ask Soulja Boy.
Now, 36-year-old Jeezy — whose real name is Jay Wayne Jenkins — is charged with battery, false imprisonment, and making terrorist threats against his now 17-year-old son … after sources say recently issued "grand jury warrants for each charge" led the rapper to turn himself in to authorities, Friday January 3rd. Sources say Jeezy was booked before being released on a $45,000 bond.
Here's what Jeezy's lawyer had to say about the case:
"We have no doubt this matter will resolve itself appropriately. At this moment, Mr. Jenkins is thankful for the support of his fans and the respect for his family's privacy."
Did Young Jeezy delete a picture of he and Jadarius — which he captioned, "Fathers Day wit my Lil man nothin better! #itsthaworld" — posted to his instagram account, back in June 2012? Of course … Just ask Shyheim Jenkins.