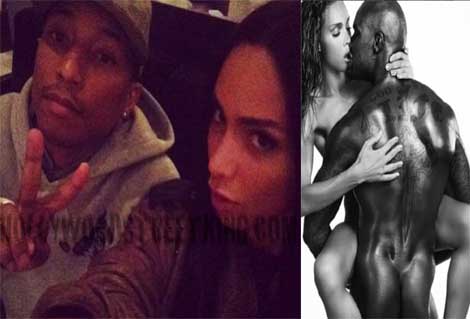 HSK Exclusive – Scratch that 'Tahitian honeymoon' Pharrell and his new beard/bride claimed they were planning. Know why? Because just a few weeks after he tied the knot with Helen Lasichanhpair, Pharrell was spotted putting in time with a Trans!!!
A tipster exclusively tells HSK just two-weeks ago, Pharrell and the Parisian trans model were "all up in each other's personal spaces" at a Manhattan lounge. But don't think for one second that Pharrell didn't know 'Miss Thang' doesn't have a Ding-A-Ling! Know why? Because Ines Rau is no longer hiding her gender reassignment. Don't believe me.. Just ask Tyson Beckford, who posed with the Paris native for an OOB Magazine shoot … said to be photographer Rodolfo Martinez' "display of sexual equality."
Now, not only is Ines Rau being dubbed the leading Trans serving up DL celebs, she's also at the center of the spotlight from the shoot.
"When Pharrell found out Tyson was making a play, he pushed up … HARD!!!"
Here's what Ines Rau recently revealed:
"I am twenty-four years old and have done the [sex] change very young. Until now I wasn't really out about it."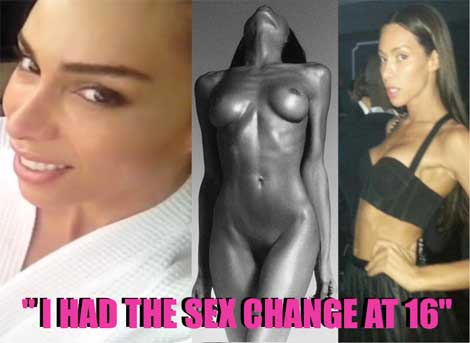 Like Pharrell, Tyson Beckford still claims he's straight but says, "As soon as I saw her [Ines Rau], I was seduced."
Here's what Tyson added:
"She is a sexual being so I could feed off that. There was no hesitation for her, she didn't hold back. You know, some girls just don't want to get in trouble with their boyfriends. When you're at work and you can create and just let go, that's great, you don't always get that unfortunately."
Are models known to use their gigs as pub to lure their sponsors? Of course … Just ask Kimora Lee Simmons.