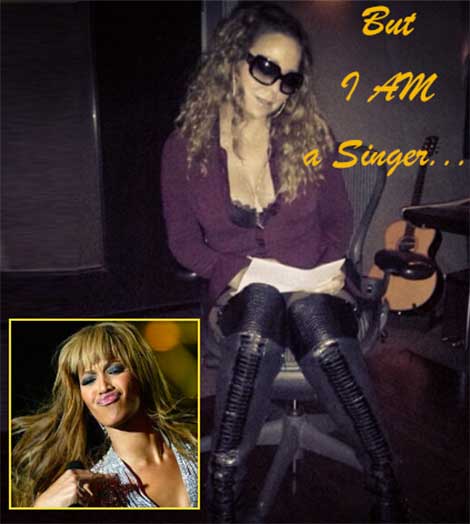 "Though Carey doesn't mention other artists in describing her strategy, it's clear she's taking a page out of the "Beyoncé" playbook." ~Billboard
You know the game's gone left when the press is claiming Mimi is ripping Beyonce off! Know why? Not only does Mimi have OG status in the music biz — she can hit five-octaves in one minute, like the late great Minnie Riperton. Can Beysus do that?
So… just because Mariah Carey is releasing her upcoming album "in full digitally" is far from these reports of her supposed "blueprinting Beyonce." What can't THEY recognize the obvious?
Here's what Mimi revealed to Billboard:
"You would think I would be all about the singles-driven situation, and I am in a way, but with this particular album I want my fans to hear it as a body of work.

I have to be the one that announces.. the title [based on a] personal possession of mine that's part of an entity that I've had almost all my life."
Check out what Billboard's reporting:
"Carey will be taking a surprise approach to the project by revealing her new album's title, track listing, artwork and music all at once via to-be-announced digital partners (a physical release at retail is expected the following week.) "