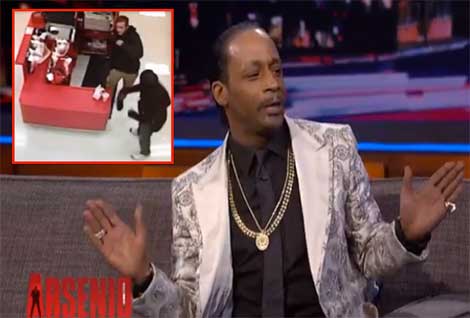 "There was a reason that they couldn't let you hear it." ~Katt Williams
Remember that Oakland, CA Target employee who was caught on tape getting a Katt Williams' hand to the face? Well.. not only is he said to have lost his job over the incident, he's being exposed for droppin' the N-word to egg Katt on. Know why? Katt says dude was looking to get paid!
Target's surveillance video-gone-viral of the December 2, 2012 incident shows the employee talking on his cell phone just before being approached by Katt Williams. The Pimp Chronicles' funny man's recollection reveals.. that's when the man dropped the N-word, causing Katt to try to explain why that's not okay.
Here's how Katt broke it down to Arsenio, during last night's broadcast:
"I wasn't smart enough at the time to realize this dude's trying to make me punch him. Where does that come from where you want me to punch you for your benefit?"

I used the word too much and I'm realizing as he's saying it, 'Oh, you think you can say it because I say it.' So I explained to him, 'No you can't "because things will happen.' And he goes, 'nothing will happen.'

But in this life there are consequences.. and Ima have to face mine and your nose has to face its.. just for that one time, for that one last mistake."