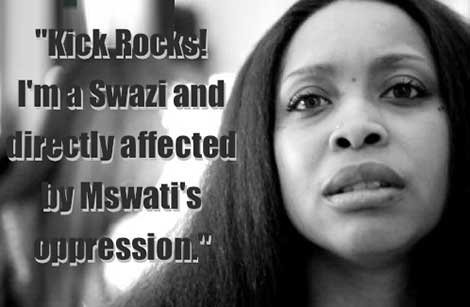 She once fronted a face of activism, but Erica Badu says "I'm an artist with a big heart not a political activist." This while the newest face of Givenchy stands firmly behind her recent performance during the 46th birthday celebrations for notorious African dictator, Swaziland's King Mswati III.
"I went into a situation not completely knowing [Swaziland's] political climate."
The singer — whose real name is Erica Abi Wright – has since lashed out at outraged human rights activists, accusing her of "endorsing a brutal dictator." Possibly adding insult to injury, sources report her role as jester for King Mswati III is one that was Blood Diamond-funded. Don't believe me.. Just ask Jacob the Jeweler.
"All the money that I got from the trip I gave to all the servants in the house."
Here's the latest:
"Jacob "the Jeweller" Arabov asked her to sing Happy Birthday in an arena packed with thousands of people.

The singer has refused to apologize for appearing at the show, insisting that, although she doesn't "keep up with current events", her "harmless" visit did not help "further [Mswati's] political agenda

The singer was just as unrepentant in posts to her Twitter account, where she claimed critics were using her as part of "a political season".