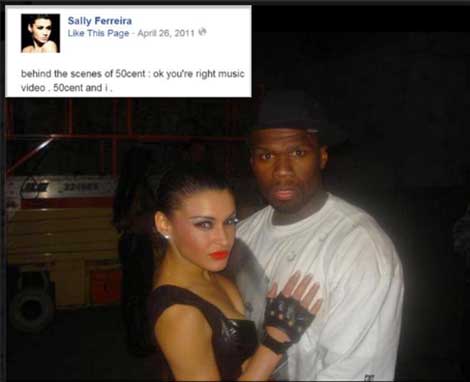 "Sally Ferreira posted this photo of her and 50 Cent in 2011. She has since hit the rapper with a lawsuit Thursday claiming defamation."
Fiddy is facing an multi-million dollar lawsuit, brought upon by the very video vixen he apparently tried to hook-up! You'll recall Fif previously took to IG, cautioning other that working with Sally Ferreira — who Fif offered a spot to in his "Big Rich Town" video — could be a liabiity. Go Figure!
"WARNING: Do not attempt to work with this thirsty video bitch she sent photos Of the video shoot to Mediatakeout Saying I'm in a relationship With her Cananyone say RESHOOT? Big FAIL, super thirsty, new shoot this week coming. Unbelievable #smsaudio #Animal Ambition"
The 29-year-old model may now actually be living up to Fif's words. Know why? Ferreira is demanding $11M "claiming the rapper defamed her and caused her emotional distress."
Here's are Sally 'I'm a Damsel in Distress' Ferreira's claims listed in the suit:
"Photos snapped by third parties — not Ferreira — were leaked from a March 23 music video shoot for "Big Rich Town" aboard the No. 4 train in the Bronx. The photos showed 50 Cent up close and personal with Ferreira, 29, and were picked up by Hip Hop Weekly and MediaTakeOut.com, which speculated that the two were in a relationship.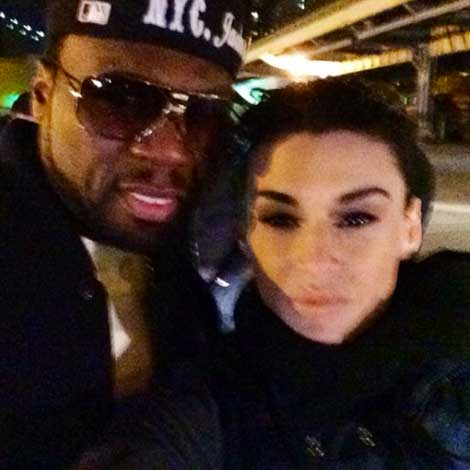 THIS PIC LOOKS LIKE SALLY'S SELFIE TO US, AGREED?
"Without undertaking any investigation whatsoever, Mr. Jackson falsely accused Ms. Ferreira of being the source of the MediaTakeOut.com coverage by posting a picture of Ms. Ferreira on his personal Instagram account with the following text superimposed over her image… [Fif's quote above].

Before the defamatory posting, Ms. Ferreira was working on three separate entertainment industry projects and enjoyed a good reputation in the industry.

Ferreira has been in a committed relationship with her fiance for more than nine years, a fact she claims 50 Cent knew. A number of media outlets wrote articles about the Instagram post despite the rapper removing it from his account within hours of writing it.

As a direct and proximate result of the defamatory posting and the subsequent media fallout and negative publicity surrounding Ms. Ferreira, as of the date of this filing, all three projects have been put indefinitely on hold.

Moreover, as a direct and proximate result of Mr. Jackson's actions, Ms. Ferreira has been subjected to harsh and hurtful comments about her profession, character, and appearance, causing her severe emotional distress."
Has Sally Ferreira benefited from her 50 Cent connections over the past three-years, possibly let him smash, and now looking to cover her cheating azz with her fiance — while banking on gettin' deep into Fif's pockets? I don't know, but what do you think???