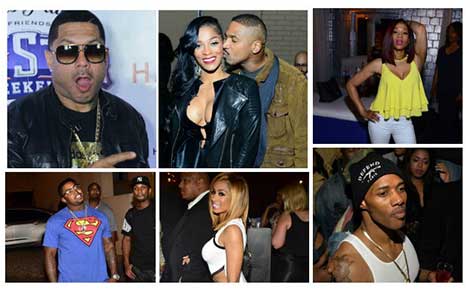 Stevie Restrains MiMi, Clocked Unconscious… Coked-Up Joseline Catches Beats By Althea… OG Deb Antney Steps Up Too!
Talk about turnt up! The chaos on the set of LHH's 'Atlanta Reunion' could have Mona Scott Young wetting her giant panties! Just ask Stevie J, who's speaking out during the calm after the storm.
"The reunion for @VH1 #LHHATL will be epic" ~Stevie J. tweeted.
And that storm was BANANAS! Joseline — is said to have been coked up during the turnt ATL Reunion taping — and hasn't had sh*t to say since the brawl… and she's said to have set off the whole thing! Just ask Waka'a wifey, who the Ratchet Rican first went in on. That's what led Deb Antney to 'rip her wig off.'
"I'm done filming with this Love&hiphop sh*t til they start drug testing these#PromFein a$$ b*tches" ~Tammy
Then she allegedly popped off on Althea, Benzino's fiancé. "I hate fighting but she hit me first I had to defend myself," Althea said.


Sources say…. Cops were called to the set and filming was stopped for some time, but it then started back. That's when the incident was reported taken to a whole other level! Word is… Joseline tried to fight MiMi and that Stevie J got into it and held down the mother of his child, while his Joseline knocked her unconscious. MiMi was rushed to the hospital.

Peep the Video below…