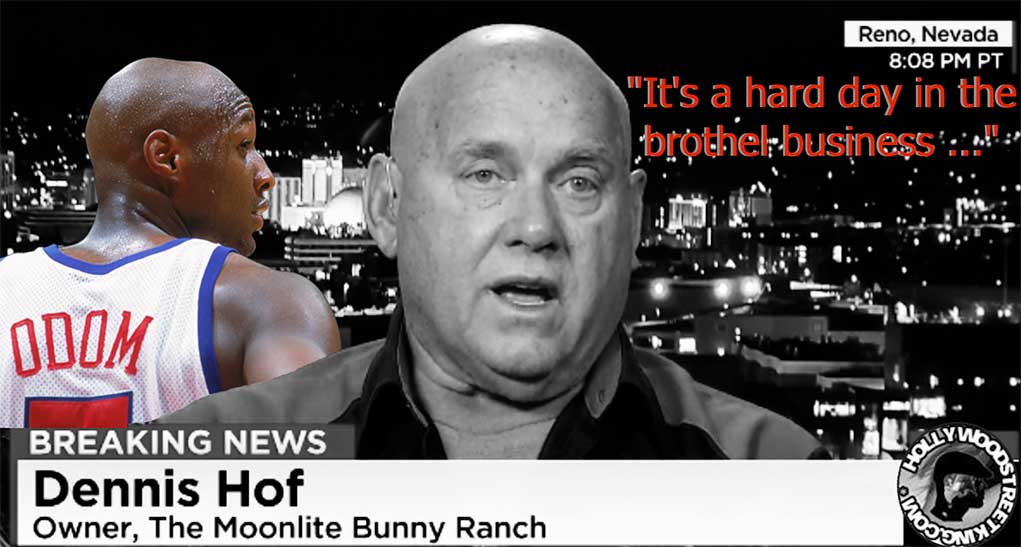 "He didn't look good at all … he had change of color on his skin … he was foaming at the mouth … 9-1-1 said to put him on his left side, he started regurgitating very heavily … they rushed him out of there in an ambulance." ~Dennis Hof
HSK Exclusive – While Lamar Odom remains "comatose and on life support" in a Las Vegas hospital, Sin City sources tell HSK that "charges should be laid on the Ranch if Lamar dies." Though we can't confirm exactly where Lamar scored the apparent lethal blow, it's hard to find it surprisingly that "several" Love Ranch employees reportedly "knew all about Lamar doing cocaine" inside the brothel … we're told that some may have even seen Lamar in the act of gettin' high. Sources say that's why Dennis 'Pimp'in' Hof is now "scrambling to cover his azz" — while apparently pullin' a 'blame it on the Black guy' card as part of a supposed 'Ranch rock' over Odom's drug overdose.
"I got a call from Heidi Fleiss today saying, 'Dennis, don't defend him [Lamar Odom] Us drug addicts, we have a way of hiding things that nobody knows about.'" ~Dennis Hof
This, shortly after an unconscious Lamar Odom was discovered by a pair of prostitutes at the Love Ranch South, the Dennis Hof owned brothel where the former NBA player is said to have been partying for four days. Since then, Dennis Pimp'in Hof has turned to the media insisting that no one at The Love Ranch saw, heard, or knew anything about Odom gettin' high.
"We did nothing wrong. This is no different than somebody doing drugs or doing something wrong in any business. We can't control these people. We can't be with them 24-hours a day to watch what they're doing."
Here's what else Dennis 'Pimp'in, Possibly Push'in' Hof told CNN:
"Everyone's got these speculations … and these unnamed sources … well I wish these unnamed sources would step forward, because the only people that know what's really going on is my staff, my girls and Lamar.
My people are educated to look for things … look for drugs … look for people that have some issues … Lamar was a guest there, he was having a great time, and there was no indication that there was anything wrong.
They didn't witness anything. They did witness him take this herbal supplement. They didn't witness him take any illegal drugs. My staff, when they went in the room when the emergency came about, didn't see anything. The police department investigated the property and didn't see anything … there was no paraphernalia …"
Check out Kris Jenner, acting like she gives a phuck 'bout Lamar Odom. Hey Kanye, you need to take note!!!