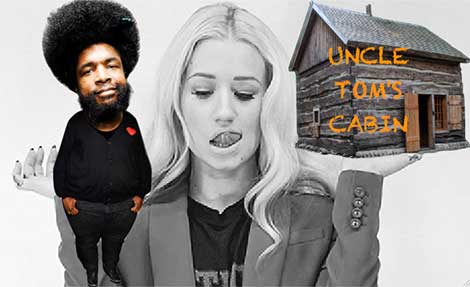 "We as black people have to come to grips that hip-hop is a contagious culture." -Questlove
Not too sure what 'Roots' Questlove ever claimed, but one thing's for sure… Mister 'Neo-Soul' just joined the 'Sell Out' movement. Don't believe me.. Just ask 'Fancy' Femcee, Aussie 'Slave-Master' Azalea — who Questlove has officially bowed down to.
"I will say that 'Fancy,' is above any song that I've ever heard or dealt with, is a game-changer in that fact that we're truly going to have to come to grips with the fact that hip-hop has spread its wings."
Questlove just doesn't give a f*ck! Homey… THE CLOWN… just happens to drop this sh*t as word breaks that he's landed his own VH1 show.
Here's what Questlove just put out there:
"I'm caught in between. And I defend it. I see false Instagram posts like, 'She said the N-word! She said the N-word!' I'll call people out — 'Yo, don't troll.' I know you're ready to give your 42-page dissertation about why this is culture vulture-ism. You know, we as black people have to come to grips that hip-hop is a contagious culture. If you love something, you gotta set it free. "I'm not going to lie to you, I'm torn between the opinions on the Internet, but I'mma let Iggy be Iggy. It's not even politically correct dribble. The song is effective. I'm in the middle of the approximation of the enunciation, I'll say. Part of me hopes she grows out of that and says it with her regular dialect — I think that would be cooler. But, yeah, 'Fancy' is the song of the summer."