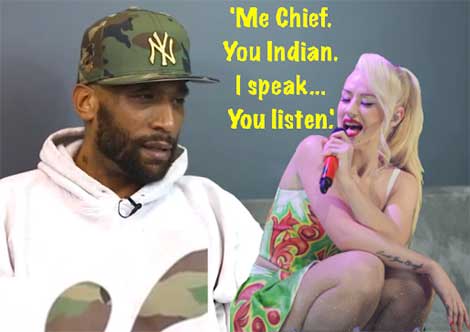 "She's from Australia but the way she rhyme it's almost like a caricature — like you making fun, 'cause you don't talk like that."
Lord Jamar has challenged Iggy Azalea to be herself… rather the minstrel spectacle Miss 'Slave-Master' is pulling on the masses. But Aussie Azalea being herself will likely never happen. Know why? Not only would that NOT sell… the Brand Nubian Hip Hop legend says: Iggy Azalea is "the white replacement for Nicki Minaj."
"They enjoy the music but they wanna see white faces doing it."
Peep Lord Jamar's choice words for Iggy:
"You rhyme like you from the west coast or down south. You from down south alright — Down Under. Rhyme like that! Rhyme like a fukkin' Aussie. But no, you wanna rhyme like you fukkin' Black. Like get the fuk outta here, Yo."
Check out what Lord Jamar's putting down:
"They're not gonna stop until she's the shit. She's part of where they want rap to go. They'd much rather an Iggy Azelea than a Nicki Minaj.

They'll take a Nicki Minaj over a Lauren Hill… because she's lighter and she's not talking no positive shit. She's oversexualized. But if we can get the same type of Nicki Minaj in a white girl, shit — that's their wet dream."
Let's go!