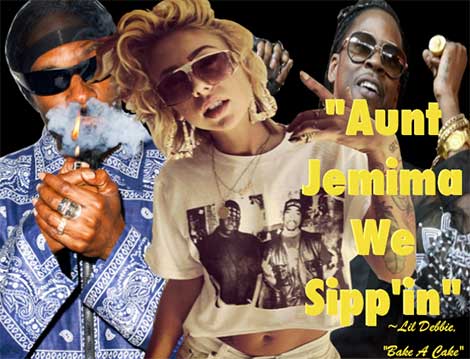 She's back, gunz blazin'! Lil Debbie — whose turnt level is to the point that even her former White Girl Mob squad don't want her — just set off shots at Snoop and 2 Chainz, taking it back to a time when she blazed up with the the boyz.
"I remember nobody would take the blunt from me. I was so irritated 'cause Snoop kept giving me blunts."
Check this… 'Debbie Does Hip Hop' hasn't only called these two grown azz men "old, like as sh*t"… Miss. 'Aunt Jamima We Sippin' also refuses to refer to 2 Chainz as anything but his throwback title, 'Tity Boi'. Ya Heard!?
"Snoop Dogg has collaborated with the White Girl Mob in the past, featuring Kreayshawn and V-Nasty on his own "Keep It Crackin'."
Check it:
"I talk shit about Tity Boi all the time and how old he is. I love him, but I'm like, 'Yo, he's old, like as shit, but that's tight'.

Snoop Dogg is 42 years old and still is able to keep his brand up. I feel like sometimes he's [Snoop] too high, to like give a f*ck about the politics of this. shit."