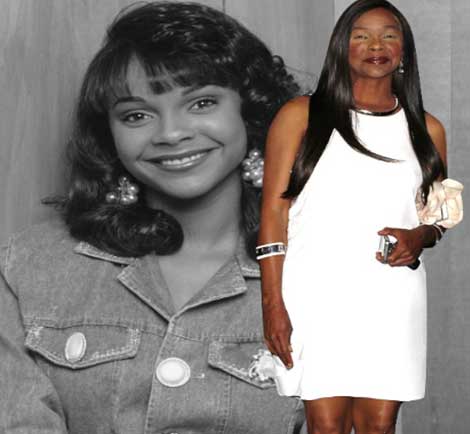 HSK Exclusive – Recent pics of Lark Voorhies have the industry buzzing with speculation of actress experiencing a "foundation fail", after she pulled through to the Hollywood premiere of "Where We Started", Friday. But according to one top Beverly Hills dermatologist that's far from the deal.. revealing the 40-year-old "Saved By The Bell" star appears to suffer from a skin condition known as Melasma.
"Drastic changes in hormone levels.. like pregnancy.. stress and genetics often contribute to stages of Melasma. The patients pigmentation is raised, resulting in dark patches on the skin." ~Dr. Boris Zaks
Just a few years back, Lark's mother announced the actress is bipolar and suffers from manic depression — which could explain the "hormone changes" revealed to be present in Lark's appearance.
"Questions regarding her mental health surfaced following an interview with People magazine in 2012 where she was described as 'mumbling to herself, or to others who weren't there.'"
Check out how they're now shunning a woman who they once praised:
"Lark played Lisa Turtle on the hit 90s show, which ran on NBC from 1989 to 1993, but unlike her other co-stars like Mario Lopez, who have continued successful television and movie careers, Lisa has stayed away from the spotlight."