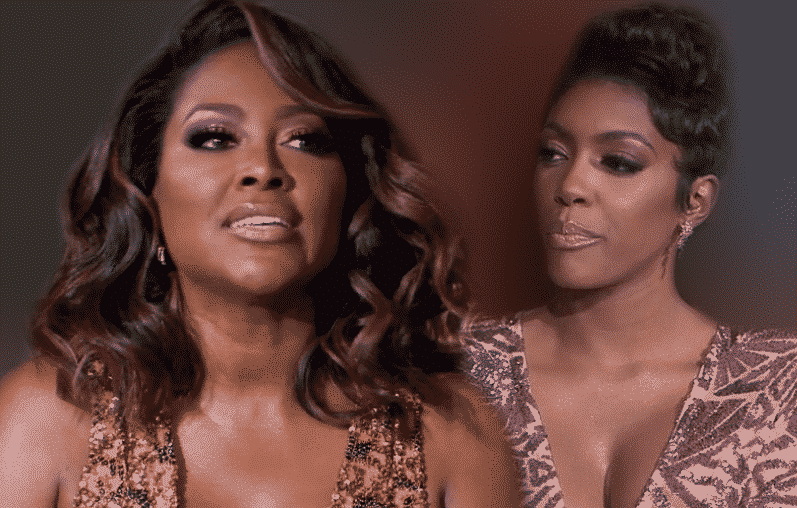 The #RHOA reunion still isn't over, but Kenya Moore has a few things to say in her Real Housewives of Atlanta blog about costar, Porsha Williams. And none of it's good!
Porsha claimed she was always being bullied by the other women. Kenya calls bullsh*t. Who has gotten physical with more than one of the RHOA ladies? And who had to take anger management classes?  Porsha, of course.
"She has repeatedly used this excuse before. Several of the ladies have been bullied as a child, as they revealed. She constantly bullies people by her aggressive behavior, physical attacks, or by telling boldface lies on them (Peter, Kandi, Kordell, myself, etc.). It's just another way of deflecting."
What lies, exactly? That Kandi Burruss was a lesbian and was especially "close" to Shamea Morton. That Kandi wanted to drug Porsha and drag her back to the non-existent sex dungeon. Oh, and that Kandi's husband uses the alias "Marvin" to score tale while he's away from home.
Kenya thinks it's past time for Porsha to own up to her behavior.
"This is a 35-year-old full grown woman. At what point do you take responsibility for your actions?"
When it was revealed that Phaedra Parks was the person who told Porsha about Kandi's intentions to drug Porsha, Kenya tweeted about how gullible Porsha seemed. "Why would you BELIEVE anyone who said Kandi and Todd would drug you?

Why would you BELIEVE anyone who said Kandi and Todd would
drug you?????????? #RHOA

— KENYA MOORE (@KenyaMoore) May
1, 2017