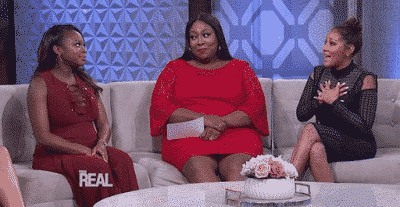 3 LW's former manager, who is also the sister of Kiely, is coming for Adrienne Bailon and Naturi Houghton's blood. Tse Williams is airing the group's dirty laundry. As you know Naturi left the group back in 2002 after being forced out of the group and was often treated unfairly.
At the time, she explained about the situation:
There was an argument between me and Michelle [Williams]. And Kiely and Adrienne [Bailon, the group's third member,] are cursing me out, and before I know it, Kiely throws her plate of food all in my face — mashed potatoes, macaroni all in my hair, down my clothes, messing up my [hair]do! Nobody has the right to hit me. That's not what I'm here for, … to be physically abused. So I said, 'Get me a flight back to Newark, New Jersey,' and they wouldn't even help me get a ticket.
Now after all these years Naturi is a guest on The Real, you know Power is coming back, but Adrienne apologized for what happened Naturi.. Click here if you missed that…
Now the former manager is calling out Naturi and Adrienne for being fake, Tse says that the Cheetah Girls ended because Disney pulled the plug when nude photos of Adrienne leaked. She also alleges that one of the girls were sleeping with married men for years.