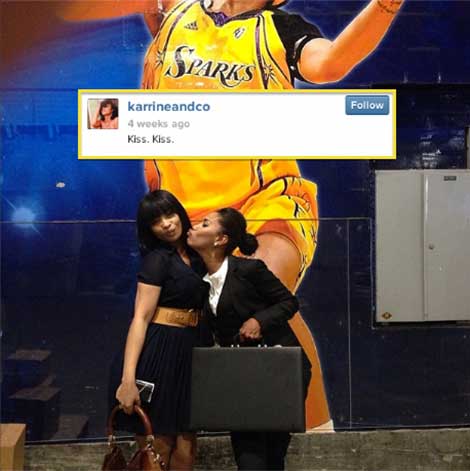 "I can't have everyone thinking I condone this or am helping her." ~Superhead
Somebody cue Chris Brown's track! Know why? Because "These hoes ain't loyal!" Just ask V. Stiviano's attorney, revealed to be basing Stiviano's defense case on: "his client doesn't know who leaked the audio recordings."
Now, here comes the industry's biggest whistle blower, Karrine 'Superhead' Steffans, to dismantle that defense argument. This, after Superhead is proven that have eaten at Stiviano's Sterling-funded table!
"It doesn't end all that well. I don't know what's next for her."
But between the set of pics of her with V. Stiviano at Staples Center basketball games, and the drop she just spilled to the press, Superhead insists, "I don't want to throw her under the bus."
Check out what Superhead told the press:
"She told me, 'I know what I'm doing,' She was preparing for this moment. I told her you don't want to do this. You're making a show of something very serious. This is not a show. You're making a mockery of something very serious.

The only gains here are monetary and then what? That runs out too.

I don't want people thinking I'm helping her write a book. I'm not. I told her 'I can support you even though I don't agree with you… you may have made the wrong decision, but it doesn't mean you're a bad girl.'"
Is it just me or is it looking like Superhead accepted a check from Donald Sterling?