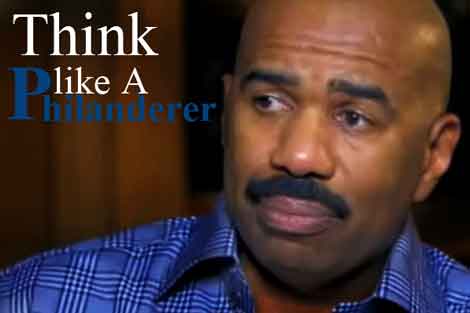 HSK Exclusive – As Steve Harvey prepares to pack it up and take his television show to Chicago, insiders reveal there's much more the recently-signed WMAQ/NBC 5 personality is looking forward to than just hitting the Windy City's airwaves. That's because sources say the talent-less comedian is cheating on his wife with a jump off who lives in…you guessed it, Chicago!!! This news comes shortly after the Atlanta resident, Steve Harvey, publicly announced he's set to begin taping of the program.
Here's the dirt a source revealed about the "Think Like a Man" author:
"Steve Harvey is about to do a television show out here in Chicago, he can't wait to get out here. I don't know if you're hip to this, but Steve has a jump-off in Chicago.

Steve is not only cheating on his wife Marjorie, he's also a sugar daddy!"
I asked my source, "What's the name of Steve's jump off?"
My source replied, "If I were to tell that, they'll know I'm your source. One or two people know about her, I know about her, because my business partner is f*cking her too. The industry looks big, but it's really small."
Is Steve Harvey a bald headed liar and hypocrite? Of course he is. Don't believe me.. Ask his ex-wife Mary, who he's bullied for years!