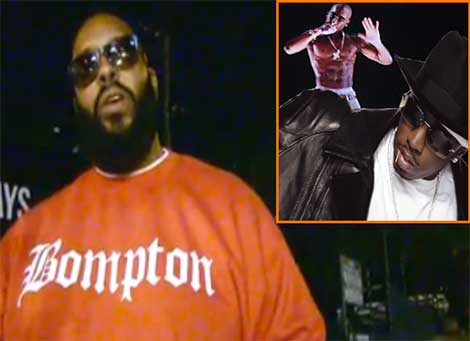 Suge Knight is re-hatching rumor of Tupac being alive.
The onetime H.N.I.C. of Death Row Records shared his take on why there's been no arrest in connection to Tupac's murder.. and made it a point to punk "b*tch azz Puffy" in the process.
"You'll have a mutha f*cka walking down the street and say 'Suge Knight killed Tupac'.. but at the same time, B*tch azz Puffy can have every rat in the world say he the one that killed Tupac.. or had him shot."
Suge's spilled his word last night, after paparazzi ran into Suge on Sunset Blvd.. just steps away from Chateau Marmont. Not too sure what the deal with Suge's "Bompton" shirt, but there's got to be some kind of message behind it. Don't you agree?
"Everybody know one thing about me.. I don't care if they a n*gga in Hollywood or any n*gga in the streets — especially Hollywood rappers."
Here's why Suge had to say:
"I ain't never in my life told on mutha f*ckas. If people ask me if I know who killed Tupac.. I'm not sayin' Tupac dead or alive.. I'm saying if people ask me who killed Tupac, I'm sayin 'absolutely not.' I don't get down like that.

One thing people gotta realize.. this mutha f*cka is born and raised out here. You supposed to respect the mutha f*ckas that live out here 'cause right now we got a lot of out-of-towners livin' out here and they ain't said nothn' about it.

…everybody know off the top that I ain't the n*gga that killed Tupac.. I'm the n*gga that protected Tupac. At the same time, b*tch azz Puffy can have every rat in the world say he the one that killed Tupac.. or had him shot.

There was a rat on television saying he the one that did the shooting.. this happened, that happened. If you think about it, what you think no one been arrested if they the one said they killed Tupac? Because Tupac's not dead. If he was dead they'd be arresting those dudes for murder."