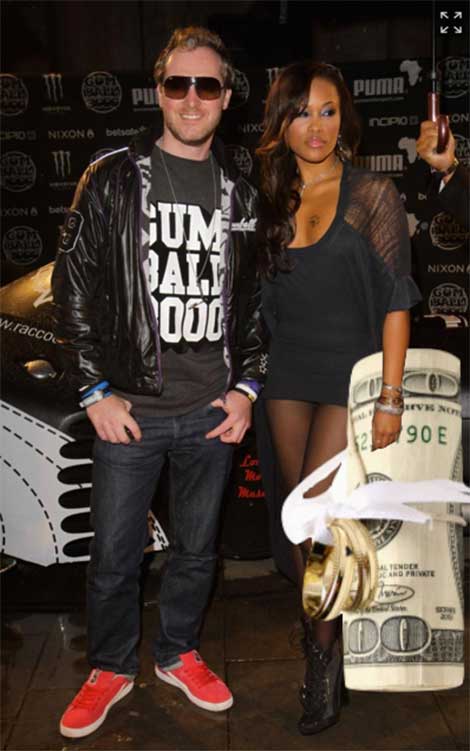 "He's not quite a billionaire, but his impressive resume assures that he will reach that level in his lifetime."
Eve just has just graduated from her title of 'First Lady of Gumball' to Queen Bee of the booming creative consultancy company. Over the weekend… the Ruff Ryders rapper got hitched to Maximillon Cooper, an entrepreneur, skateboarder and race car driver who has a net worth of $50 million.
"I've never been the type of person to discriminate. But I honestly have to say I never thought I'd be with a white guy ever. But it just happened. It's amazing. I'm the first black girl he's ever been with too." -Eve
This news comes four-years after the pair first hooked up at the Gumball 3000's 2010 Motor Race Rally, and less than a ring since their Christmas 2013 engagement. On Saturday, Eve exchanged vows with the multimillionaire, Saturday in Ibiza, Spain — making her Maximillion's wifey number two.
"Eve is also stepping into the new role of being the stepmother. Cooper was previously married to his former business partner Julie Brangstrup, and has four children, ages 4 to 10."
Here's what Maximillion Cooper had to say:
"I'm so happy to make Eve my wife. The whole experience has been amazing and we are both so happy to have tied the knot.

We are beyond happy to celebrate our marriage with all of our friends and family and start our journey in our new life together. It's been such an amazing experience, and we are happier than we ever thought we could be."