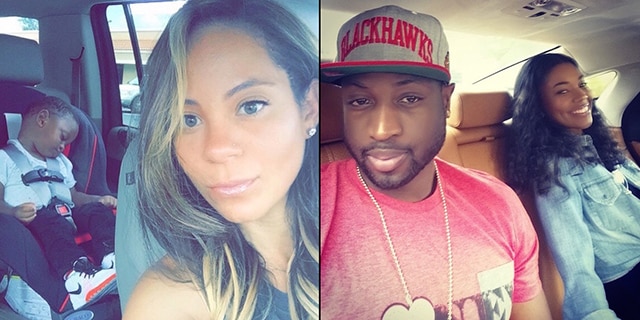 Aja Meyoyer is speaking out about the media calling her baby a "Break baby" from Dwyane Wade. She's looking at you Bossip…
"My son's not a break baby, I'm not a side chick or a homewrecker," said Aja. "I would love for people to be able to relate to me as though I'm their sister or their friend. Life happens and sometimes you get dealt s****y cards and you just do the best you can do and make lemonade out of lemons."
She also dispelled claims that she's "bitter"… "I'm actually extremely happy, I'm dating and I'm really into the person that I'm with right now. Life is great for me and all my kids."
She adds tha,t people should stop wondering how she "got" with two prominent people; Damon Wayans Jr. and the "other person" who she respectfully declined to call by name.
"Everyone's like 'Oh God, how did you get Damon Wayans Jr. and this other person?' But it's like Damon Wayans Jr. and I, we've known each other since I was 12. There's no getting. And the other person, I've known for 10 years plus. There was no 'getting' in that either, we're from a whole huge group of friends. We've been friends for a very long time.
There's no getting, there's no ho, there's no anything. It's like you meet the boy next door and y'all have been neighbors for years. It seems messy but if you compare it to any other situation, it's no beef. Everybody's good. Everyone's extremely happy."
As for her and the "other person", Aja says they have an "amazing" relationship for the sake of their son Xavier and declined to comment on her relationship with the person's spouse.
"No comment, I have to leave that one," said Aja. No "bitter baby mama" over here!