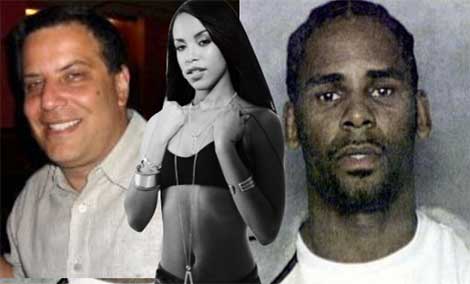 R Kelly's longtime manager — Derrel McDavid, owner of Chicago-based "accounting, auditing and bookkeeping" company, Winkler McDavid & Associates — is crying all the way to the Court after he says the shameful singer didn't pay what he promised.
Derrel McDavid has since delivered Kelly with a million dollar lawsuit… apparently based on monies Kelly agreed he "would to give McDavid." GIVE? Really? Who just up and GIVES $1.3 million just to "walk their separate ways"???
Is it just me… or does is seems like Derrell McDavid boss'ed up on R Kelly by possibly warning the DOCUMENTED CHILD MOLESTER that he'd spill the dirt of Kellyif he didn't pay? If that's the case, Derrel McDavid — who is on record boasting about how he helped "navigate [R Kelly] from being a nobody to a superstar" — that would mean dude helped to COVER-UP R Kelly's reported MOLESTATION OF at least A DOZEN UNDERAGE VICTIMS! Don't you agree?
"Derrel McDavid arranged for a car to pick Aaliyah [then 15-years-old] up at O'Hare airport and she had a hotel room available on arrival."
TMZ reports:
"R. Kelly is an ungrateful tightwad who screwed over the guy who made him a star … at least according to a new lawsuit.

Derrel McDavid says he's managed R. Kelly for decades and helped him navigate from a nobody to a superstar. Things soured last year … and Kelly and McDavid parted company. According to the lawsuit they made a deal … Kelly would give McDavid $1.3 million and they'd walk their separate ways. McDavid says Kelly made the initial $300K payment, but the deal called for additional $40K a month payments for 18 months and he hasn't received a cent.

McDavid's suing for the $1M balance. Here's Kelly's big problem. We're told McDavid was deeply involved in Kelly's professional and personal life, and knows everything about the various disputes he's had with women and others going back 20 years. Sources connected with the case say Kelly could be playing with fire by stiffing McDavid."