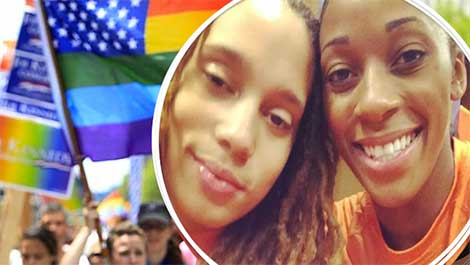 How Is That 'Sports History'???
Brittney Griner has announced her recent engagement to fellow WNBA player Glory Johnson. That's great… but what part of the game classifies who an athlete marries — let alone, who they may choose to smash — as "making sports history"???? I'm saying tho.. wouldn't "making sports history" be defined as something related to the sport?
To the critics who may challenge the TRUTH I'm dropping [likely to come to the table with a weak argument that's based on the "historic" racial integration of Black athletes, like Jackie Robinson, into White-owned sports teams] — Consider the Cuban/Sterling-state-of-mind' infested National Basketball Association.. WITHOUT Black basketball players. Imagine an NFL lacking the negro muscle needed to run the League's FIELDS. Better yet… How do you think Ameriakkka would hold up on the world Olympic stage WITHOUT the Black athlete representing this COLOR-DIVIDED country?
Now let's consider the other side… the gender-based side, based on the recent coming-out of certain pro-sports figures. If the Brooklyn Nets were to remove Jason Collins from the roster, would the team go bust? What about Michael Sam? Would the NFL be left azz out with him… based on SPORTS, NOT Gender-Trending… let's be real. Ha! Case closed!
Anyway.. I'm done ranting… FOR NOW.
Here is what's out there:
"Brittney Griner and Glory Johnson have been Women's National Basketball Association (WNBA) opponents since Griner entered the league by becoming the first overall pick of the 2013 WNBA Draft. But now Griner and Johnson have something else in common besides being fellow WNBA All-Stars — they're engaged to be married.

The couple made sports history when Griner proposed to Johnson late last week. Depending on how you look at it, it's either a story that should have gotten more attention for its progressiveness or was appropriately just a blip on the mainstream media radar as same-sex relationships become more and more mainstream.

But either way, it's a heartwarming tale of love and sports.

Griner posted this photo of herself — on bended knee with ring in hand — in front of Johnson to her Instagram account on Friday night. Its caption: "Last Night was a Night to Remember I became the happiest person on this earth! (almost pass out but when that one word came out I came back to life) Me and my baby @missvol25 are in it for Life!"