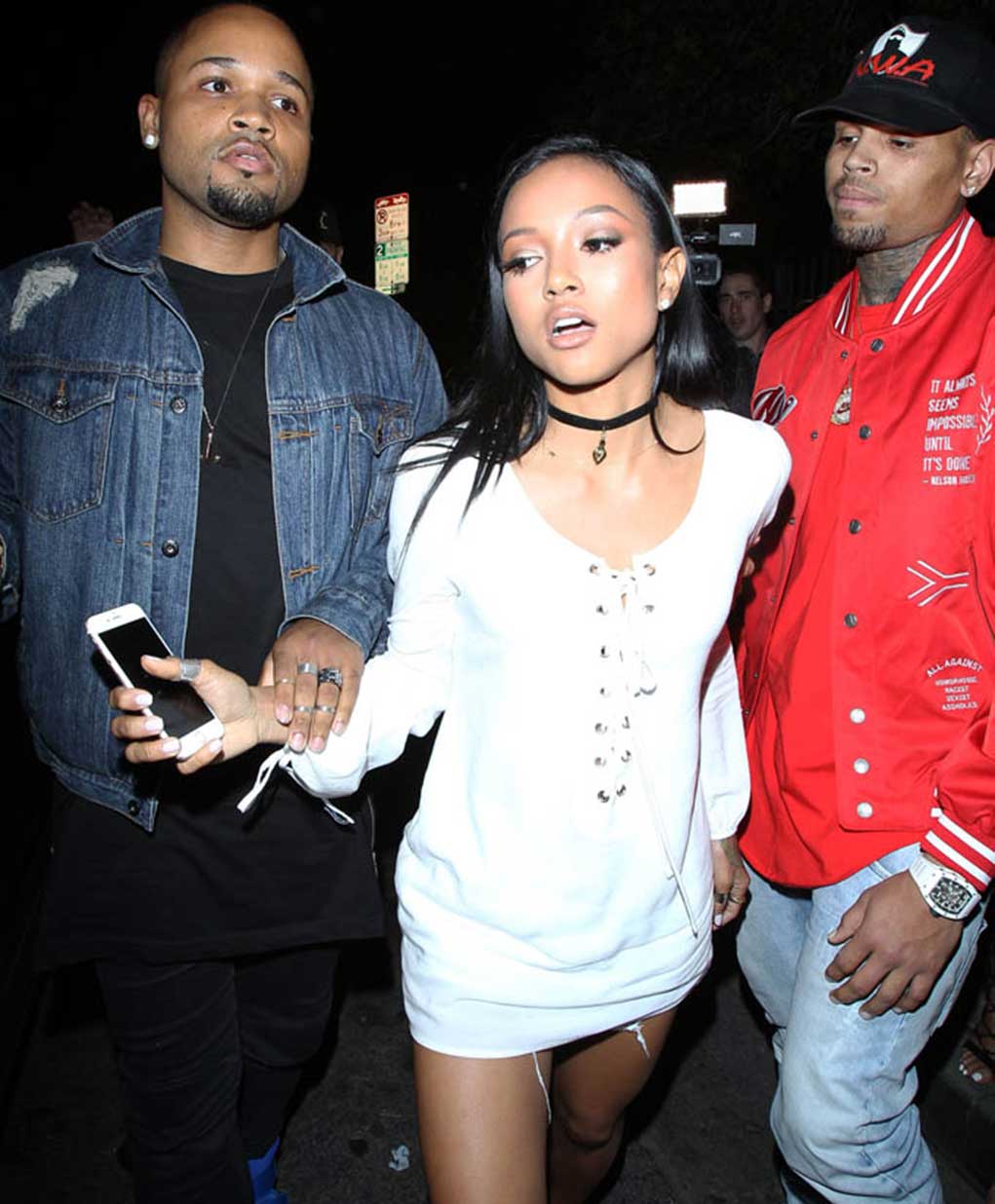 Chris Brown revealed that he's still in love with ex-girlfriend Karrueche Tran, although he has a funny way of showing it. In a new interview, the R&B singer thinks that the model will get back with him in the near future.
During his interview on Tuesday, June, 9, Brown poured his heart out for Tran. He's holding out for a reunion one day. Brown says he "can't promise anything" when it comes to his anger issues, although he takes "full responsibility for my actions and things that I've done in the past."
"I'mma be honest and be a man about it… Just take it one day at a time. I can't promise anything, or jump over the moon. But I think it takes time for all wounds… I take full responsibility for my actions and things that I've done in the past. I think it's just a time thing."
It doesn't sound like Chris is changing anytime soon. The performer blew up at the model during the late hours of Thursday night. Chris even followed Karrueche out of the Playhouse nightclub and into her car. The troubled singer then followed the beauty to her home, until they met later that night, at Norm's diner where they had a shouting match.
Brown was asked if he was still in love with his ex-girlfriend. He said that despite their fight and his anger issues, he still has feelings for her.
"I'm not a hateful person. Of course I still love her, but mentally right now, I think everything takes time. I just need to focus on being the best father I can be."
Nothing says true love like stalking someone. He shouldn't expect Karrueche Tran to feel the same way about him. According to a new report, she is fed up with Brown's childish ways. An alleged source told HollywoodLife that Tran thinks that her ex still acts like a "little boy."
"Karrueche doesn't think Chris is a threat to her. She chalks it up to him being a little boy who throws the biggest temper tantrums when he doesn't get his way. He's just a kid, that's all. That's how she sees him now. But no, she doesn't see him as a threat or even a stalker. He's just being himself — a child."
It's also been reported that his dangerous actions is pushing her further away. If Chris doesn't back off on Karrueche, then he may lose her for good, according to another HollywoodLife report. An insider told the celebrity gossip site that his violent behavior will cost him his relationship with Karrueche. Not that they have much of a relationship these days.
"Karrueche has never seen him like this. He was not himself at all. She doesn't know what to do. She's already told him that she's cool on him right now but he keeps forcing the situation and won't give her time she needs to heal. The more he keeps pulling stunts like this, the further away he's pushing her."
Now, sources close to Brown tell TMZ that his friends told him Tran was waiting in the wings for him – which led to their blowout fight last week. According to these so-called sources, Brown reserved a table at the Playhouse nightclub, next to Tran's friends because his friends told him to do it. Brown's friend was egging him on and telling him that Tran wanted him back.
Chris was allegedly surprised to find out that Karrueche wanted nothing to do with him. He shouldn't be surprised since he still hasn't changed his ways. Do you believe that Chris Brown is still in love with Karrueche Tran? Or, do you feel that he's guilt tripping her into get back with him? Share your thoughts below in the comments section.
via theinquisitr.com