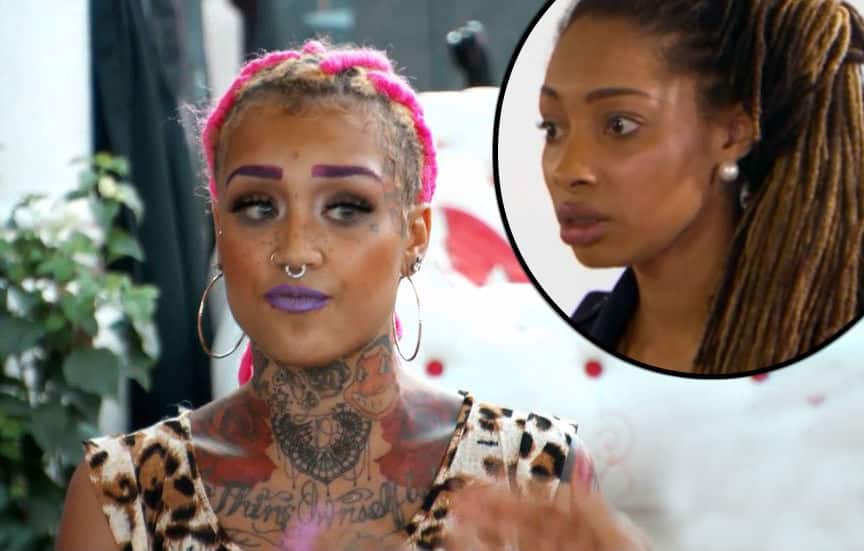 via Allaboutthetea.com ~ Who knew when Black Ink Crew's Dutchess and Donna got hot and heavy in Miami last season, their lesbian fling could lead to legal action.
As fans of the VH1 reality hit know, the women have been at each other's throats ever since their freaky hook up — with Dutchess accusing Donna of rape and Donna claiming the sex was consensual. Dutchess' mother has made a few guest appearance to support her daughter and often joins in social media banter about the show. But this time she may have gone too far.
On Tuesday, Donna posted a screenshot of Dutchess' mom blasting VH1 for making her daughter look, 'crazy.' Many say Dutchess is doing a fine job of looking crazy on her own. The episode that set her mama off aired last week — and showed Dutchess seeking legal advice to sue her ex Ceasar for half of his harlem tattoo shop. Dutchess made bold
claims of investing half the money to keep the shop afloat.
Well now, Dutchess' mom is crying foul and blaming VH1 for editing her baby to look bad. Her mother posted,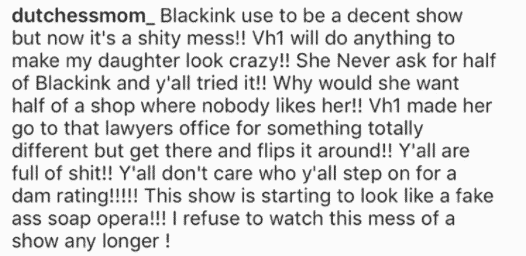 Donna posted a screen shot of the slam and clapped back on Instagram with the caption,
"Dutchess and her over involved mom need to SIT TF DOWN! Dutchess is wack and corny and should be grateful to be put in such a spotlight. Nobody said nothing when that woman BLATANTLY LIED and said I raped her knowing damn well our sex was consensual. I think I'll sue #DutchessofInk for #DefamationOfCharacter

#FOH #DonnaM #GoodMorningPeeps #iSawThePaperWork #SheReallyTriedIt #BlackInkCrew #Season5 #Vh1 #Slay #Bih

P.S. THEY BOTH HAVE ME BLOCKED OR THEY WOULD BE TAGGED."