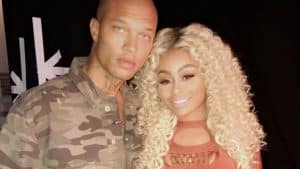 People are talking about Blac Chyna and "the ladies favorite felon" Jeremy Meeks possibly being involved with one another… this following a snapchat of the two posted with no description to the IG models account.
Here's the drop:
On Wednesday night, Chyna shared a picture on Snapchat. of the two posing with their arms around one another, both showing off their tattoos. Chyna donned a skintight lace-up orange dress, while Meeks kept it casual in a camouflage-print shirt and ripped jeans. Meechie was no where to be seen! ?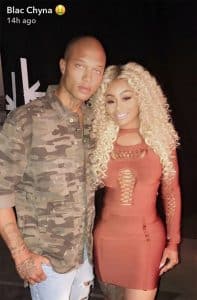 Truth is these two were both cast for the same project…
Meeks, became a model after his mugshot went viral in 2014, has made headlines this summer due to his relationship with Topshop heiress Chloe Green. Meeks was photographed kissing Green on a luxury yacht just off the coast of Turkey in July, though he was still married to his wife, Melissa, at the time. Shortly after the pictures surfaced, Meeks filed for separation from Melissa, after eight years of marriage.