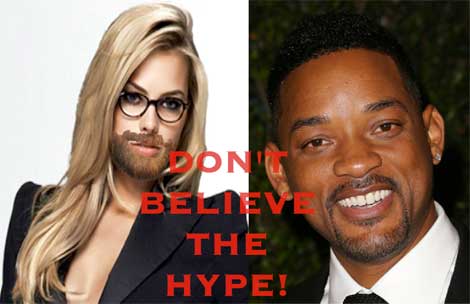 "When we did our audition together, we had a natural chemistry. I think it's going to be a lot of fun." ~Will Smith
HSK Exclusive – Don't think for one second actress Margot Robbie has really been Will Smith's side chick. That's because an insider reveals … since Jada threw dude the deuces, Will began scrambling for a new beard.
"Word is out that Will and Jada are living separated … so to kill the gay rumors Will had to find a beard."
We're told Will's intentionally-leaked 'cheating scandal' with 23-year-old Aussie actress is nothing more than introducing Margot Robbie to the public eye … his trade off for her beard-services. Just ask Tom Cruise!
"Margot is perfect. She's young, hungry … and Will can take her to the next level."
Here's the drop:
"Will is following Eddie Murphy's formula. Eddie went and got himself his Australian beard, Paige Butcher, and Will went and got himself an Aussie Beard too."