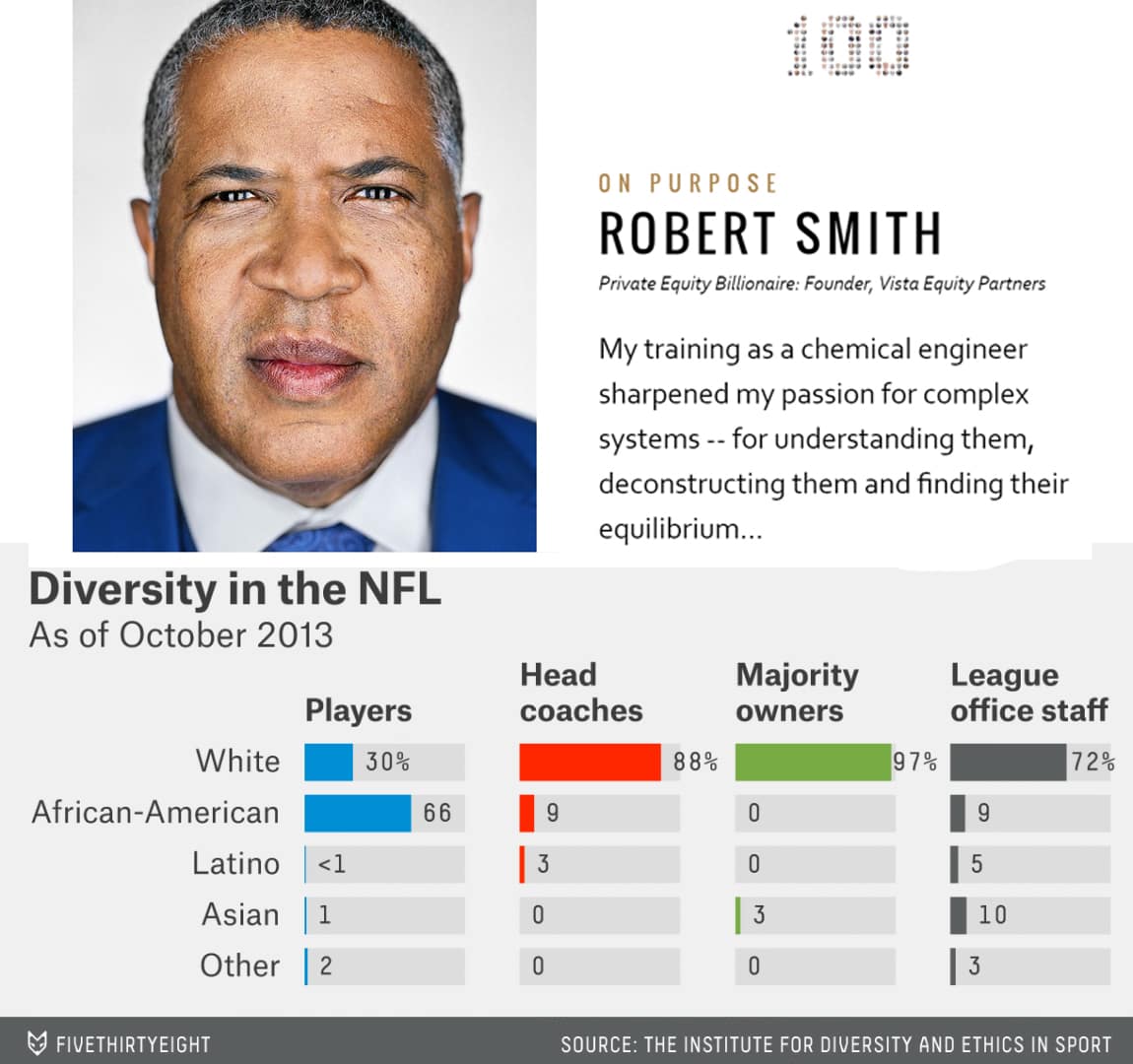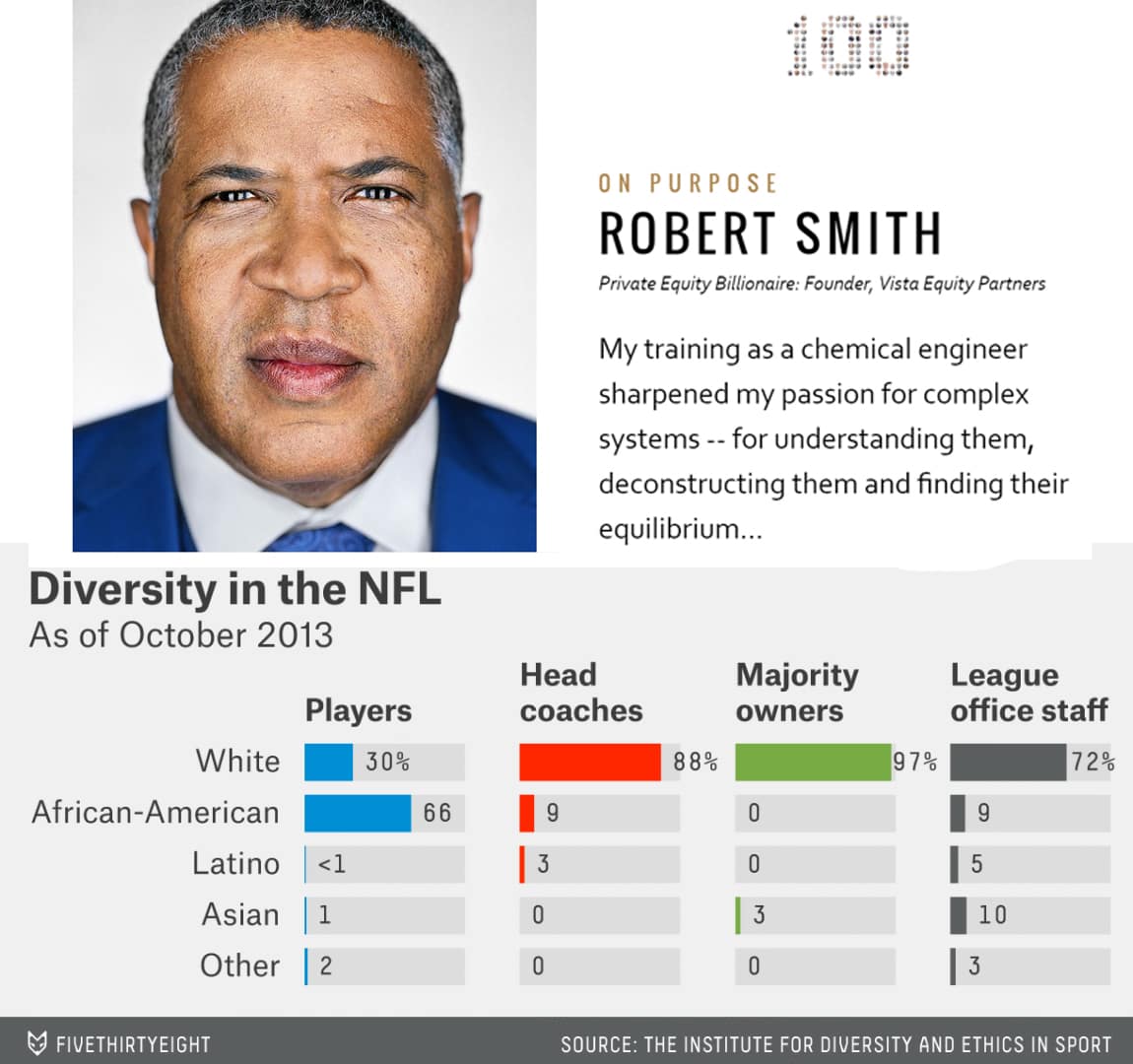 This is a powerful argument!
By: N. Reid
With racial tensions flaring across America and the NFL embroiled in a bitter spat with the U.S. President over players protesting racial injustice during the national anthem, billionaire investor Robert F. Smith is on the verge of making history by becoming the first African-American NFL team owner. Smith's sights are firmly set on the league at a time when it has also been criticized for a lack of diversity at various levels, from the quarterback position, to head coaches, and team owners.
As the first black NFL team owner, not only will Smith stand with the players when the National Anthem plays, but he'll back up his actions by continuing to be a positive influence in the African American community by donating his time and resources to organizations and institutions that are focused on the betterment of black people. Focus and resources are something that Smith has plenty of, if his $2.5 billion fortune is anything to go by. He's now the second wealthiest African-American behind Oprah Winfrey.
Is success ingrained in his DNA? It's likely.
Smith was raised in a middle-class family in Denver – the son of Dr. William Robert Smith and Dr. Sylvia Myma Smith, both of whom were school teachers with PhDs. As a high school junior, Smith desperately tried to get his foot in the door to work an internship at the Colorado development company, Bell Labs. The position was tailored for college students but Smith had the drive and determination that even after being initially rejected, the bigwigs at Bell Labs hired him. He has come a long way since that first unpaid position.
Little was known about him for many years. He was never one to plaster his face on every magazine to boast about his accomplishments. In fact, the website for Vista Equity Partners doesn't even include a picture of his face. He wanted to prove his abilities first before investors and executives could judge him for the color of his skin. His plan worked, and his firm has earned him billions.
A few African Americans have tried and failed to acquire NFL teams. However, there's nothing stopping Smith from making his dream come to fruition. Owning an NFL franchise just may be his greatest investment to date. However, it won't be the pinnacle of his career – Smith is just getting started. With his devotion to maintaining the glue that holds the African American community together, seeing Smith in a stadium's owner's box on a Sunday afternoon is something the league and America so desperately needs. It would be a sign that our nation, the land of freedom and opportunities, isn't just reserved for those who have a certain shade of skin.
What sets Smith apart from other financial leaders across the globe is his penchant for helping others. In 2017, he was named one of the "Philanthropy 50" by the Chronicle of Philanthropy. And in May 2017, The Giving Pledge announced he had joined its ranks as the only African American philanthropist. When the Smithsonian's National Museum of African American History and Culture was looking for donations, they were told to reach out to Smith. They had no clue who he was at the time, but now he's known as the entrepreneur who gave them their second-largest donation worth $20 million.
His contributions continue year after year, including a $50 million donation to his alma mater, Cornell University. His unparalleled generosity prompted the college to have the Robert Frederick Smith School of Chemical and Biomolecular Engineering renamed in his honor.
Preserving the African-American experience is one of his main goals, and he's able to hone in on that interest and several more; including entrepreneurship, the environment, and human rights as the founding director and President of the Fund II Foundation. The nonprofit makes grants to public charities that safeguard human dignity, improve environmental conservation, provide outdoor education, and sustain the American values of empowerment and innovation.
The time for a black NFL owner is now, and there's no better prospect than Smith.