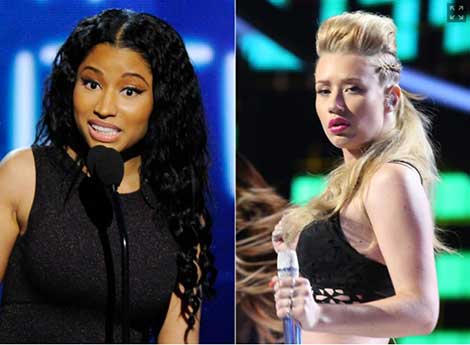 HSK Exclusive – Just when you thought it couldn't get any worse than Nicki Minaj being championed… not only for the great example she sets for Black youth, but also her sheer disrespect of the likes of Malcolm X… it just did. The diss-publicity is now on between Dirty Nicki and Aussie Azalea, who both need to sit their ridiculous fake implants down!
You'll recall… Nicki had this to say during her Young Money "Best Group" BET Awards acceptance speech: "I've been placed in a position to do something and represent women in a culture that is so male-driven… But my point is, what I want the world to know about Nicki Minaj is, that when you hear Nicki Minaj spit, Nicki Minaj wrote it." Now, here comes Aussie Azalea talkin' 'bout "the only true insiders are the musicians themselves." I'm sorry, but either Iggy's taken in one too many of Nicki's Pills and Potions — or she's surrounded by one too many Tom's — to actually make believe being a musician. Just ask Peppa…

Thanks to the likes of ISH like that… you've now got Iggy 'Slave-Master' Azalea paving the way for racists like Paris Hilton to straight up jack our culture! Just ask Dame Dash!

Here's Iggy's response to Nicki:
"I have never had any musicians tell me that I wasn't authentic for being white and Australian, No one.

Even I had a warped perception of how I would be received in this business.

What I've come to realize is that it's the people who write about music–or who are outside it in some way–who have a problem with what I am doing. The only true insiders are the musicians themselves."
Let's go!