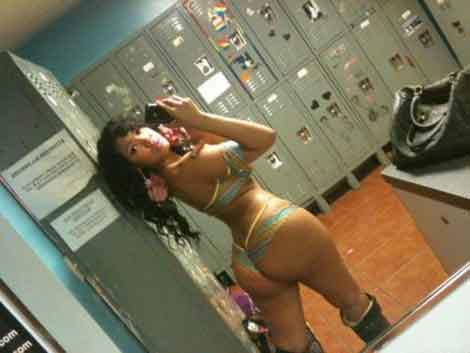 HSK Exclusive – Yaris Sanchez is a 20 year old video model/stripper with a 8 year old child — and guess what? Someone spilled the tea on Yaris Sanchez.
Here's what an insider told me about Yaris:
"Yaris Sanchez and Cyn Santana were both fighting on Fabolous "Lights Out" video set. Can you believe that them hoes were fighting over Fabolous? Yaris is a hot mess. French Montana knows Yaris from her strip club days that's why she's in his new video "Shot Caller".

Yaris is a bad mother she left her child with her parents so she can play house with Joe Budden and that lesbian chic Duncan. Joe Budden dumped her for Venessa Veasley but a couple a weeks ago Yaris was seen with Joe, in Miami and Puerto Rico.

Her breast were leaking because she went to the Dominican Republic to get cheap plastic surgery. Yaris lost 7 pounds because her breast implants were making her sick so she took them out."
Here's a list of rappers that Yaris Sanchez slept with for popularity:
1. Fabolous

2. Sean Kingston

3. Lloyd Banks

4. Joe Budden

5. Bobby V.
Did the plastic surgeons in the Dominican Republic give Yaris Sanchez a horrible butt augmentation too? That's what another video vixen was caught saying. Don't believe me? Ask Dollicia Bryan.