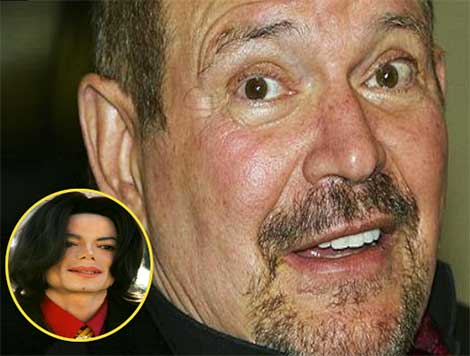 "…because of what he knows about what happened to Michael Jackson."
HSK Exclusive – We're getting inside word that may uncover a reported rip-off job on Michael Jackson's dermatologist, Dr. Arnold Klein.
According to our source… Robert Lorsrch's alleged involvement in a scam "to take everything from Dr. Klein".. could also reveal a Bev Hills Housewife as a participant in the reported plot.
"They over-medicated Dr. Klein, seduced him when he was not of sound mind into bankruptcy court."
According to our source.. Lorsch — who has previously known connections to Taylor Armstrong — is behind a plot against Klein, said to have been ignited on the very date of MJ's death. We're told… "80-million dollars worth of Dr. Klein's assets were deposited into the accounts at Private bank by the embezzlers Lorsch,Khilji, & Pfeiffer." That's what's said to have led to Klein being "emotionally devastated"… with the Medical Board reported to have "solicited into the case".
Dig the Drop:
"Robert Lorsch a well known conman close to the all members of the Board of Directors of Private Bank of California arrived in the office of Arnold Klein with the sole purpose of robbing Dr. Klein of every penny he had and making him appear as the one responsible for the death of Michael Jackson. Who is on the Board of Private Bank? John Branca!

In or around August 2009, Khilji and/or Pfeiffer signed multiple documents that were submitted to Private Bank, in connection with accounts in the name of Dr. Klein and/or his medical businesses. Dr. Klein was never informed of these documents and neverauthorized their submission. It appears that in at least one instance.. Catherine Coler [of Private Bank] approved forms that were submitted by Khilji , Lorsch or Pfeiffer — without Dr.Klein's knowledge or authorization.

Coler never made any attempts to contact Dr. Klein regarding this account activity. Dr. Klein was not informed of the accounts opened by Khilji and Pfeiffer at Private Bank. He never stepped foot inside Private Bank or met with any bank representatives.

In order to cover up their fraud, it appears that Khilji and Pfeiffer had Private Bank send account statements and other documents to Lorsch's accountant's Address and not that of Dr. Klein's This misdirection of account statements precluded Dr. Klein from discovering Khilji and Pfeiffer's fraudulent conduct. Private Bank never contacted Dr. Klein to verify any information relating to the creation or use of the multiple accounts in his name or in the name of his companies. To the contrary, Private Bank was well aware that information relating to the multiple bank accounts was not being sent to Dr. Klein's personal or professional address.

For months after the accounts were opened, Private Bank failed to send account statements to Dr. Klein or take any other steps to ensure he received notice of activity regarding bank accounts purportedly opened in his name. Lorsch's accountant's address is NKSF.

There were no signed power of attorney documents or a signature card on these accounts:

Arnold W. Klein MD – xxx7991 Arnold W. Klein MD – xxx8007 Arnold William Klein MD – xxx2366
Arnold William Klein MD – xxx2382 Arnold William Klein MD – xxx2390 Arnold William Klein MD – xxx6409
Khilji-Pfeiffer – xxx2358 Khilji-Pfeiffer – xxx6417 Minimally Invasive – xxx2473 Minimally Invasive – xxx6490 36.
At least two of the accounts appear to bear the name "Khilji-Pfeiffer" — Khilji Pfeiffer represents. So with embezzled funds Lorsch founded mymedicalrecords.com.

The Davis-Dominion loan was made when Pfeiffer,Khilji, Thall illegally attempted to sell Dr. Klein's beach house in Laguna and the funds were deposted in the fraudulent accounts at Private Bank from which Klein received no benefit. The Fraudulent Mortgage Able was also deposited into fraudulent accounts at Private Bank that Klein never knew existed.

Klein unfortunately had his medication altered at Mickey Fine Pharmacy and was drugged into bankruptcy court not of clear mind.His Judge Richard Neiter has stock in Private Bank . His trustee Bradley Sharp and his attorney John Reitman have offices close to John Branca on the same floor of the office building in Century City.. and have close connections to Private Bank."