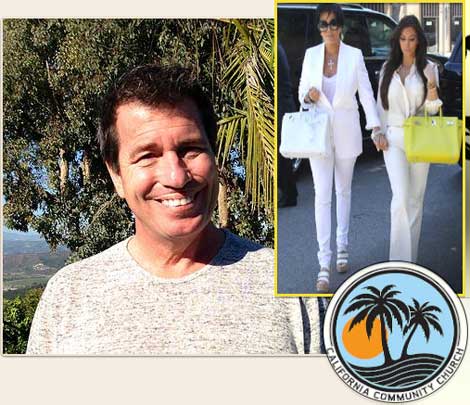 HSK Exclusive – With a track record of infidelity, three suicide attempts and resigning in disgrace as leader of one of the largest churches in Ventura County — scandalous details surrounding one Ratchet Reverend as Kris Jenner's current partner in tax crime are coming to light. Don't believe me Just ask Lamar Odom!
We're talking about Pastor Brad Johnson, the face fronting a twice-named 'online church' revealed to be The Kardashians' go-to charity. A tipster tells us 'California Community Church' — formerly known as 'Life Change Community Church' — are the 'online church's Kris Jenner used/uses to plot against Uncle Sam! "I do eBay auctions monthly and change the charity or church from time to time." Kim Kardashian stated on her blog, December 10, 2013. "I give 10% of all my earnings to charities… last month was Life Change Community Church."
"Donations were requested on Life Change Community Church's site, requesting monthly gifts — for as much as $1,000 over the first year to be classified as 'ministry partners."
To be sure, Jenner and Johnson's joint web-based operation doesn't exactly have 'a church' per se. From what we've found, most of California Community Church's few and random services are held at the Sheraton Agoura Hills Hotel — located at 30100 Agoura Road, Agoura Hills, CA 91301. Other places where previous services have been held are locations, including, Edwards Grand Palace Theater in the Calabasas Commons.
It was about a year after Rev. Brad Johnson's 2007 resignation from his Calvary Community Church pulpit, when sources say Kris Jenner tracked him down working at a Starbucks. That's when Jenner recruited Johnson for her malice-driven mission. "She persuaded Johnson to leave his job at a Westlake Village Starbucks and launch the Life Change Community Church," says a source. HSK has learned Jenner directed the disgraced Pastor to pen his May 18, 2008 open letter of apology to Calvary Community Church. In the months following, Jenner debuted 'Pastor Brad' in the KUWTK's special that aired Khloe and Lamar's September 27, 2009 wedding.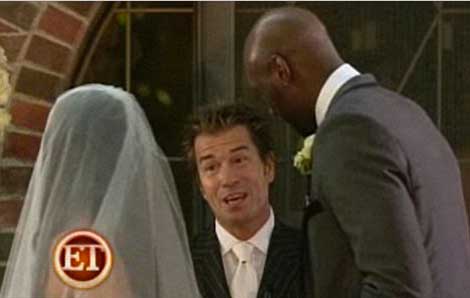 If you can believe it, Jenner's Blasphemy continued when she actually acted as officiator of Pastor Brad's March 2011 wedding — when he exchanged 'I do's' with the very woman at the center of his cheating scandal, mistress-turned 'new wife', Karen. It's an event where witnesses say Jenner was "wasted on wine."
Here's the drop on Jenner and Johnson's reported jack move:
"The monies 'donated' to their church go right back into their own coffers. This mockery of a ministry is all about the lifestyle they want to keep… period.

Brad Johnson should be repenting his sins, yet he's only adding to them. He spends his days shooting and editing his videos and working on the website."