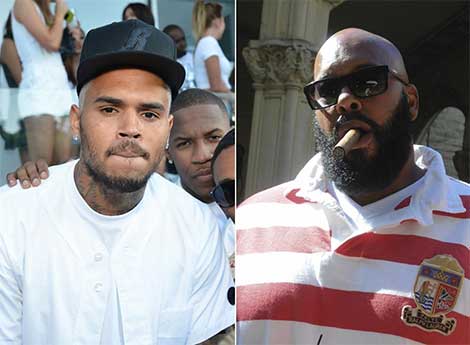 As we reported over the weekend, Death Row Records founder, Marion "Suge" Knight was the target of hitmen at Chris Brown's hosted pre-party for the VMA's at the West Hollywood nightclub, 1 OAK, on Saturday night.
An insider is saying Suge Knight told Chris Brown if he manages the singers music career, Brown will no longer have to cough up a severance pay to a certain LA street gang.
The insider went on to say Suge Knight, getting shot six times was a message to Chris Brown to let the "Loyal" lyricist know once you join a street gang there's no way out.
Here's the drop:
"The same sh*t Suge did to Katt Williams, he was trying to do to Chris. Suge was trying to manage Chris and them gangsta's wasn't feeling that. I'm sure Chris got the message and he'll continue to pay what he weights."