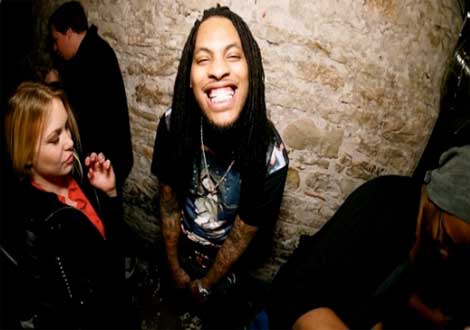 "That's what it came down to, even though we brought three bottles of vodka upstairs. In the end, he ended up walking out." -Train Wreq
A Texas party promoter (and one DJ) are said to be more than four-rack$ (and one laptop) in the hole, after sources say Waka Flocka Flame wreaked havoc on their scheduled 'Infest' show at Austin's Sixth Street, Thursday [Jan. 30th].
Recent reports reveal Waka Flocka skated with the promoter's paper — before taking temporary refuge at nearby club, 'Republic Live.' (Did we mention the promoter goes by the name 'Train Wreq'? The irony.) Anyway, the third club 'Barcelona' is where sources say a DJ's laptop disappeared … moments after Waka Flocka and his crew bounced.
"He must have bought 50 or 60 shots in the first five minutes and passed them out to everybody.
Then he went to the dance floor and started dancing around with people. He was having a good time. He was really good with everybody. He wasn't negative towards anybody, just taking photos. He just wanted to have fun." -Miguel Angel, 'Barcelona' DJ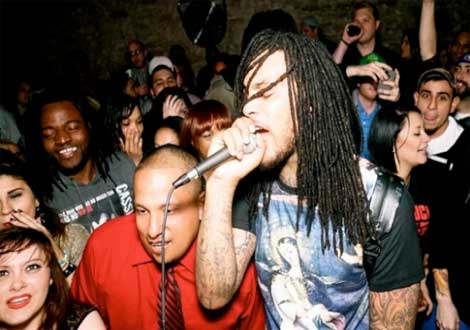 Here's what The Austin Chronicle reports:
Trouble with the headliner began as soon as the Atlanta rapper entered the venue.

"Having already provided half of the appearance fee ("either $4,500 or $4,300"), Train Wreq, who promoted the show for Infest but maintains he wasn't the "money man," alleges Waka Flocka Flame's manager asked for the full sum of the guarantee, which amounted to another $3,500. The rapper's camp then turned down a check and demanded cash before referencing a breach in the show's hospitality rider, which Train Wreq says called for eight bottles of champagne that the Infest crew wasn't allowed to bring into Republic Live.

Waka and his crew – manager, bodyguard, and DJ – walked out Republic Live's front door and crossed Fifth Street to the alley that runs behind Infest and Lucky Lounge, a full gathering of fans, many of whom campaigned unsuccessfully for a refund on their tickets, in tow.

Waka moving through the alley before turning to Train Wreq, who followed to confront him about his premature departure. Confrontation quelled, Waka made his way down East Sixth, where hip-hop coming from an outside speaker drew him into Barcelona.

Around 1am, Angel relinquished his spot in the booth so Waka's guy could set up shop. What followed was a series of cuts highlighting the 27-year-old rapper's hits. Waka, showing signs of inebriation by then, left the dance floor, jumped into the DJ booth, and began shouting the lyrics to his songs sans microphone before cutting off the music to report he'd lost his phone.

"He made the bar turn on the lights, he got on the mic and was like, 'We're gonna check everybody's pockets if I don't get my phone back.'"

Lights on and buzz appropriately killed, Waka and his threesome banded back together and walked outside onto Sixth Street. Angel went back into the DJ booth to find his laptop missing. The missing hardware sent Angel on a wild Waka chase that detoured out to Babe's Showgirls, a strip club 10 miles east on Route 290.

Babe's employees: "Waka split 15 minutes ago."