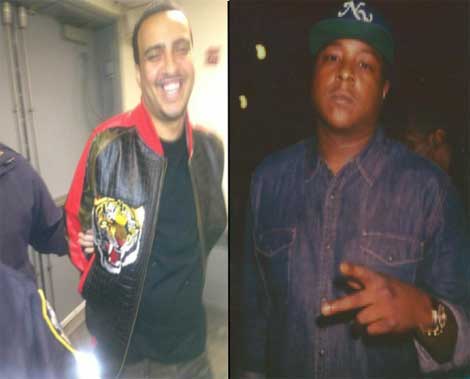 NYPD's Super Bowl Shakedown Sweeps Up Rappers!
HSK Exclusive – We've gathered exclusive details behind the Saturday night arrests of French Montana, Chinx and Jada Kiss. According to our insider … the rappers were all nabbed as part of the NYPD's Super Bowl weekend sweep. Know why? Read on to find out…
French Montana's flossin' is said be what caught cops' attention. Sources say the Bad Boy lyricist was pushin' a white Maybach when he pulled up in front of BB Kings — the spot where Funkmaster Flex's Tunnel Reunion Party went down. That's just before French was busted for driving with a suspended drivers license.
"Two officers walked over to the rapper saying, 'Nice car. Can we see your registration and drivers license?"
As for Jada Kiss and Chinx … we're told the pair were arrested and booked on outstanding warrants "for missing court dates." Was Buckshot Shorty arrested at BB Kings too? Of course!
Check it: