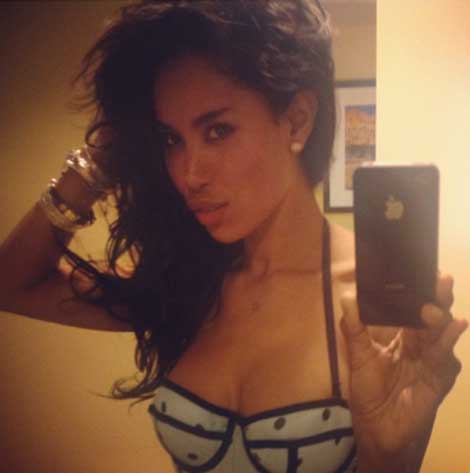 HSK Exclusive – V Stiviano's got 99-problems and one offer to shoot a porn! A tipster exclusively tells HSK… the Sterling-sponsor turned whistleblower is "in talks with Smash Pictures to star in an XXX parody porn based on her relations with Donald Sterling". Though we don't know the exact number that's on the table, we're told the offer has seven digits.
Here's the drop:
"If the deal is made V. Stiviano will play more racist audio recordings in the movie of Donald Sterling."
This news comes less than one day after V Stiviano — AKA Vanness Maria Perez; AKA Monica Gallegos; AKA Maria Valdez; AKA Maria Vanessa Perez; AKA Mariamonica Perez Gallegos — allegedly suffered a brutal beatdown outside of a NYC restaurant by two male attackers. They punched her several times, leaving the right side of her face red and swollen, said Stiviano's attorney Mac Nehoray. Stiviano didn't immediately file a police report, because "she had to get out of there," Nehoray said. "I believe she will file a police report Monday," he said.
Here's the latest word on Stiviano's alleged attack:
"The incident comes after video surfaced that showed Stiviano making disparaging remarks about African-Americans. "I don't understand black people. You give them a little bit of money, they don't know what to do with it," she says in the video that purportedly dates back to 2011 as part of a reality show pilot.

The assault took place as Stiviano was leaving a restaurant by the Gansevoort Hotel with her sister and friends. The men followed her, yelling racial slurs, said Stiviano's."