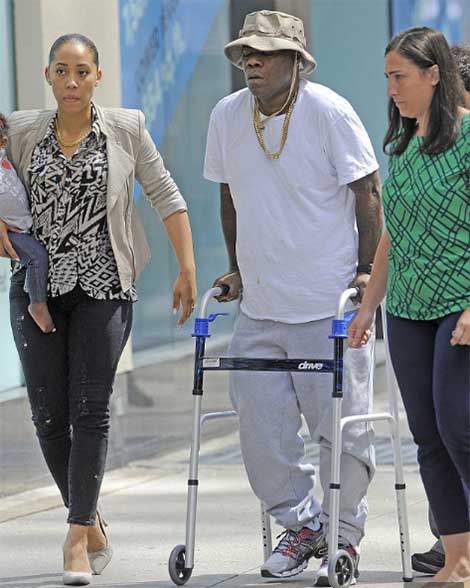 Alongside the 45-year-old funnyman are his bride-to-be, Megan Wollover, and the couple's young daughter.
One can only imagine what was going through Tracy Morgan's mind when this picture was taken, just yesterday. It's a visual stamp documenting Morgan's great determination to make his own way to a Manhattan medical center, relying solely on a walker to ease the pain from his movement.
The image doesn't only capture a moment in time when Tracy Morgan began his outpatient road to recovery, it's telling of the incredible anguish likely to lie deep within the comedian. Beyond the pain stemming from the physical injuries Morgan sustained during that June 7th tragedy on the turnpike, there is great grief over the loss of a close friend of 20-years.
Less than a week ago… James 'Uncle Jimmy Mack' McNair — the 62-year-old lone fatality from the crash — was laid to rest. Released from hospital just two-days ago, Tracy Morgan was unable to attend his friend's funeral service. But there one message delivered at Uncle Jimmy Mack's life celebration still resonates with us… which Tracy Morgan, Ardie Fuqua (who remains in critical condition as of this report).
Here's what Uncle Jimmy Mack's surviving son said during the service:
"Positivity and unity is what my dad would want everyone to take away from this."
Here is the latest word from Tracy Morgan's camp:
"Tracy has been released from the rehabilitation center and will continue his recovery efforts at home with an aggressive outpatient program. He asked me to pass along his sincerest gratitude to everyone who has helped him get to this point. He would also appreciate some privacy during this crucial point in his recovery."