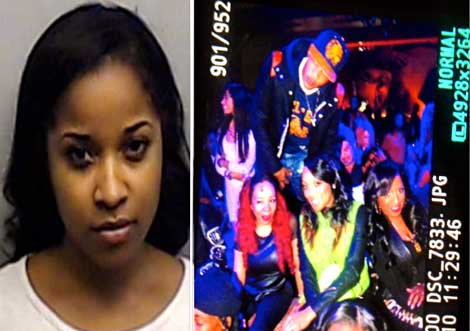 "After getting locked up, Toya Wright went straight back to the club."
HSK Exclusive – Popp'in bottles and gettin' turnt in da club wouldn't exactly be the actions of someone who claims to be "emotionally scarred." But that's exactly what Antonia 'Toya' Wright was doing in hours following her December 10th arrest, which fell on hubby Memphiz' birthday.
Reports reveal … about 1:30 AM Wednesday morning, Toya posted her $290 bail. That's before the woman Lil Wayne calls his baby momma released this statement to the press: "What I witnessed was so bad that I don't even want to leave the house right now."
Now, Toya's words seems to nothing more than … well, just words. Know why? After her release she didn't only get her party on with ATL's leading swingers, T.I. and Tiny, Toya also didn't miss a beat to host a Nashville turn up affair.
Check it: