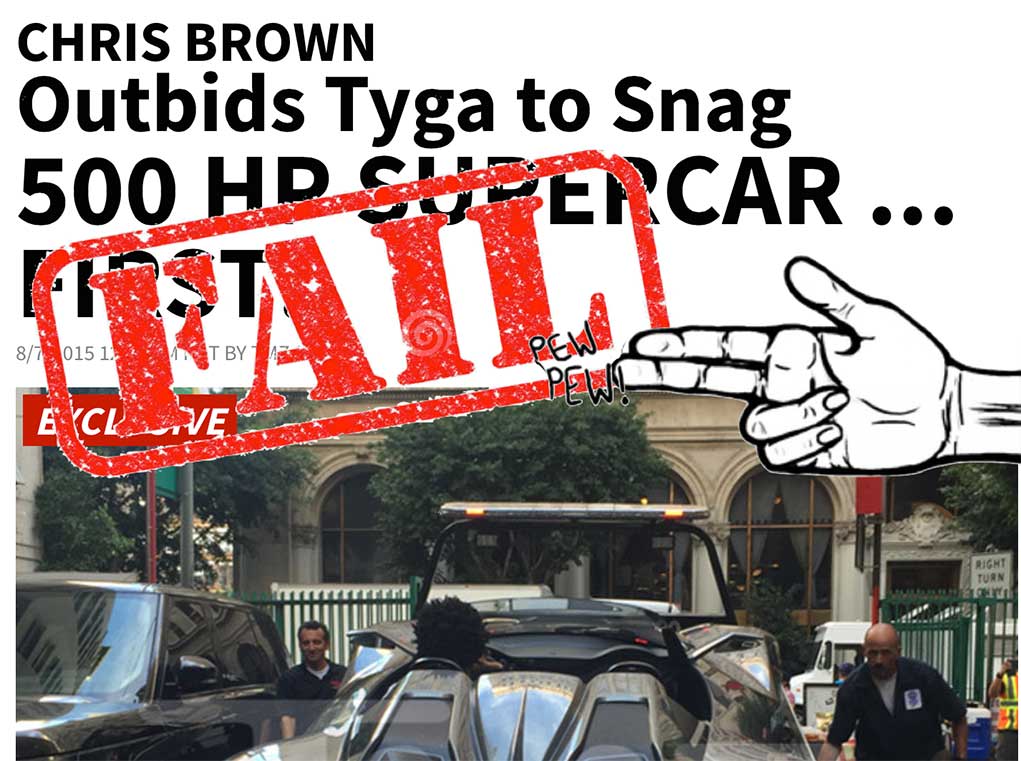 HSK Exclusive – Can someone please tell the people over at TMZ that drivin' a Rezvani Beast and buyin' a Rezvani Beast are far from being one and the same? Just ask Breezy, who — according to Harvey & Co. — "snagged the first Beast ever made" after droppin' $35,000 MORE THAN THE $165,000 asking price! Now, the August 7, 2015 publication is turning out to be BULL!
*SIDENOTE* $35,000 just happens to the exact amount a Los Angeles judge recently ordered bond be set for one Clay Lewis. Lewis would be Chris Brown's bodyguard, who appears to have been pushin' a Beast of his own in Hollywood on Sunday night. Know why? Sources say while serving as security while Breezy got it in at Playhouse, LAPD cops busted Lewis for packin' "a loaded Glock"after the firearm was reportedly uncovered from the trunk of his car. Supposedly, dude is licensed to carry in Florida. Excuse me but the last time I checked California state gun laws are some of the most "restrictive" in the country, while down in Florida as long as you're 21 not only are you clear to carry … you're "not required to disclose one's possession of a firearm on contact with Law Enforcement." There goes that drivin' vs. buyin' thang again … BIG DIFFERENCE.
"Police asked if they could search his car. Lewis obliged. It's puzzling why Lewis said yes, because he had a loaded Glock in the trunk. Turns out Lewis had a concealed weapons permit in Florida, but did not have one in California. Thus, he was busted." -TMZ
Back to Breezy and the Beast … We're told TMZ's report is "bogus", that the 500 horsepower street race car "remains the possession of Rezvani Motors", and that "Rezvani Motors wants TMZ to retract the story because it's false."
"I've said once and I'll say it again, Chris Brown didn't buy a car from us and we don't appreciate TMZ and Chris Brown was using Rezvani Motors for a story and a back drop for a music video.
According to our insider, Chris Brown is "good friends" with one Charm Britian, a Rezvani Motors rep. We're told Britian knew the singer was pullin' through to Rezvani Motors "to see the race car." That's why our tipster tells us "Charm Britian got out the video camera to stage him and Chris Brown meeting at Rezvani Motors.
Dig the Drop:
"It was all for a scene in his music video. Charm Britian and his girlfriend Laureen Clarke works for us over here at Rezvani and that's bullsh*t. Chris Brown didn't even buy the f*cking car. We contacted TMZ to pull the fake story and they refuse to."