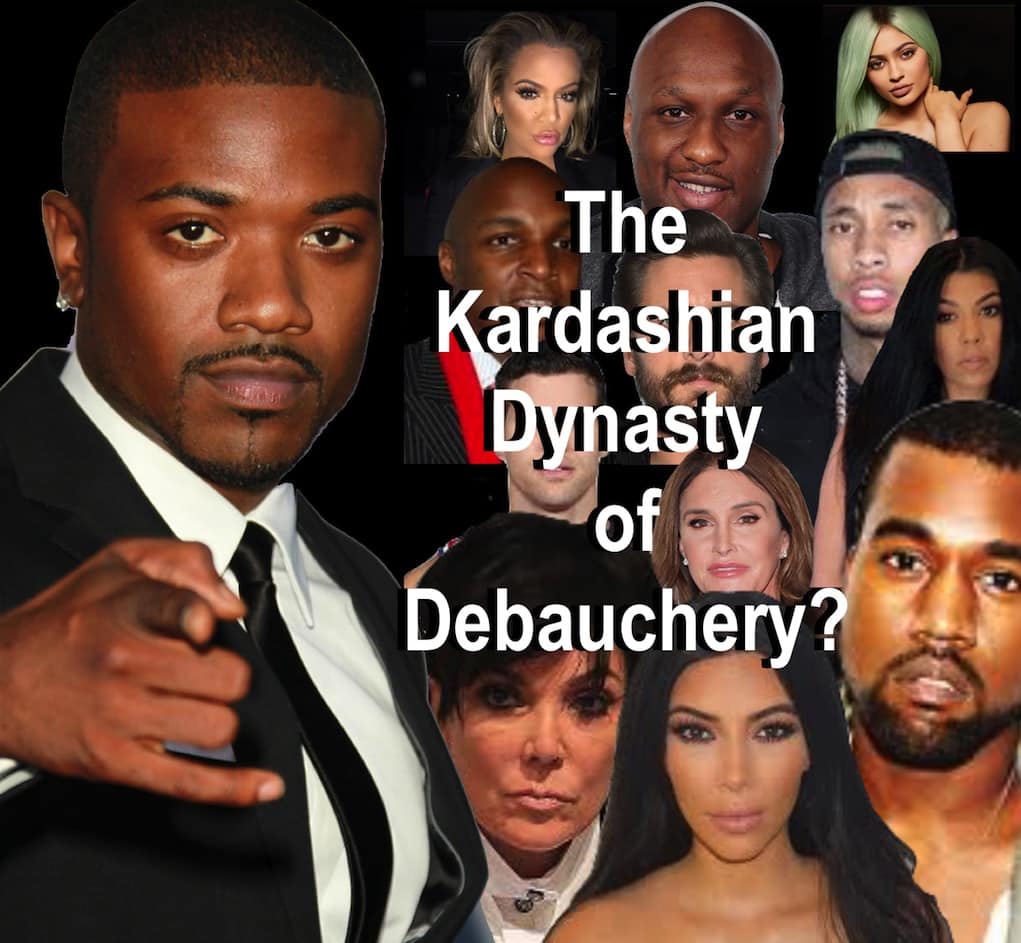 "Kris Jenner recently paid off Ray J to fallback so she can take credit for the sex tape. She's trying to resurrect her daughter's sex tape for publicity because their show's pulling low television ratings. ." — Hollywood Insider
HSK Exclusive — There's no denying Ray J played a major X-rated role in Hollywood's push to turn Kim Kardashian into the most famous woman in the world today. Know why? Because the camera doesn't lie. The question is: who's behind it? In his own words, Rays claims he's the architect of the sex tape. Now, Maxwell Billieon — who you heard receive audio recorded word from Ray J about Kimmy Kake's stank nana — is back with some major ammo that's likely to send Kris Jenner's Kardashian Kamp, Sonja and her Norwoods set, and even a Hilton [or two] running for cover!!!
"The truth is a Bombshell … Yes, Paris Hilton … Yes Kris Jenner … Yes, Sonya Norwood … Yes Ray J … Yes … there's so many more characters involved in this brilliant Kardashian Plan that made Kim Kardashian the most famous woman in the world. And I'm gonna drop that bomb … soon. It's coming, It's coming." — Maxwell Billieon
For those of you who may be wondering how a Hilton makes the equation, always remember: IT'S HOLLYWOOD, BABY! Furthermore, I can confirm Kris Jenner and Kathy Hilton are besties. Know why? Kris Jenner said so! These are the reasons why what Maxwell is putting out there doesn't seem far fetched at all to any of us here at HSK. At last word, Billeon challenged Ray J to a lie detector test to prove Ray J is lying on his own ratchet revelation about Kim K's stank puss. It's a challenge Ray J failed to respond. Since then, Kris Jenner has come to the table with a book-play: The Kardashian Dynasty, naming Kris Jenner the orchestrator, directer and producer of the Kim Kardashian / Ray J sex tape.
"There's no way posible that it could be like it is in this book … It's the Kardashian plan, how to market yourself and your family to the top of the charts."
Peep what Billieon dropped during a recent radio broadcast:
"I know that there's an iron clad, non-disclosure agreement … not even the [Vivid] company's allowed to talk about it. And in this book, she [Kris Jenner] says she's actually the one that she created the sex tape.
Where's her attorney Marty Singer? Marty's the 'Pitbull' they call him. He the guy that you read about in the blogs that goes in for the jugular for his clients. And Kris Jenner's his client. Why would he sit by and allow this type of book to come out? This is dangerous … Unless his client's behind it.
This book is not just a tell-all, it's something that she [Kris Jenner] is actually behind. Ray J says that he orchestrated, or architect the sex tape.
Where is Marty Singer? Where's Sonya Norwood? Where are the people behind the scenes of all of this that were involved in this whole deal with Vivid. There's even a quote from the writer of the Kardashian Dynasty that says that he got this information from an insider at Vivid Entertainment but I know that that's not true because I have a copy of the contract!"
Check out Maxwell Billieon's radio broadcast: