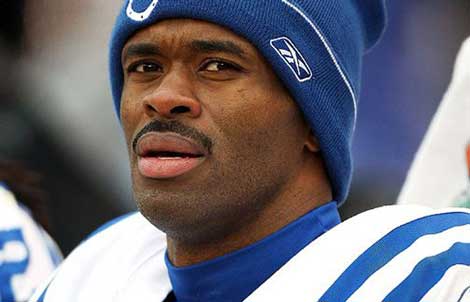 Have you ever wondered what happened to former Indianapolis Colt and Super Bowl winner Marvin Harrison?
In 2008, a year before his retirement, a strange thing happened to the Philadelphia native on his way to ending his NFL Hall of Fame career. He found himself involved in a shooting incident, not once but twice. The second time Harrison's name came up in a shooting it involved the death of the victim of the previous shooting. The same victim involved in the first shooting. According to reports this much we know:
The source said the alleged victim (a known local drug dealer), came into the bar, Playmakers,(a bar which Marvin Harrison owns), about 5 p.m. and engaged in an argument with Harrison. The victim then left the bar, heading to his car, with Harrison following. Gunfire broke out and the victim was hit in the hand. The victim's car was riddled with bullets. Marvin Harrison denied any involvement in the shooting but admitted getting into a fight with the victim.
A source told the Philadelphia Daily News that a 2-year-old boy suffered a cut under his eye from glass that shattered when an errant bullet hit a car windshield, according to police. Originally it was reported that a young girl had been injured. When police came to the scene, no one would identify the shooter. Yet the police found at least 6 shell casings on the ground near Harrison's garage that matched the bullets recovered from the shooting victims vehicle.
A year or so later, the victim did an interview with ESPN:60 where he openly identified Marvin Harrison as the shooter. A few weeks later, the victim was gunned down in front of a North Philly take out joint. As he lay dying, his final statement to police when they asked him who did the shooting was, " Yall already know, the same thing from before, it was Marvin Harrison".
Marvin was questioned by Philadelphia police in response to the first shooting, and of course he denied having any involvement. Yet, he was never questioned regarding the second shooting which resulted in death.  In 2010, Harrison was arrested by Philadelphia police for going the wrong way down a one way street, a block away from where the original shooting took place. When police asked if he had any weapons before they searched his car, Harrison said "No". Police searched his car and found guns, so Marvin was subsequently arrested.
The irony to this story to me is, Marvin Harrison was a quiet player with very little flash. He stayed close to his Philly roots by buying up a lot of property in his area. He was the bouncer at his own sports bar and would evict or not let people come in who had guns and drugs on them. The person he got into the argument with and allegedly shot is a known drug dealer w/ felonies on his record. From my perspective, it appears that Harrison simply attempted to take justice in his own hands. I wonder how many people in that neighborhood were actually upset at Marvin for essentially "getting a bad guy" off the streets? Maybe this is why the Philadelphia district attorney's office is slow to look into charging Marvin Harrison with a crime. Maybe to them, he did the city of Philadelphia a favor. The very curious case of Marvin Harrison.
Check the full D-Brad archive Here: M.M.Q.B.