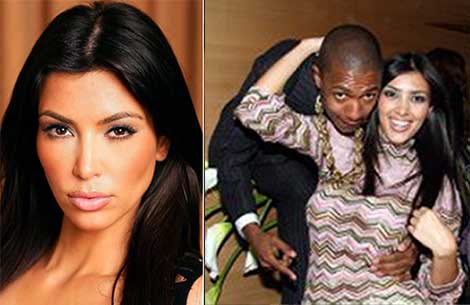 HSK Exclusive – Insiders have revealed a detailed breakdown of the three-way sex encounter between a married Kim Kardashian and one popular porn actor will soon be surfacing.
HSK has exclusively learned Star Magazine is set to release a taped interview of Julian St. Jox revealing the events of his reported wild romp session with his former girlfriend and Kimmy Cakes.
You may remember recent reports reveal back in 2001, Kim Kardashian's then husband, Damon Thomas, brought a 20-year-old Kim to a Los Angeles swinger's party. That's where Julian St. Jox claims he met Kim before he and his girlfriend at the time, fellow porn actor – Emily Ann, all engaged in a three-way sex session.
The meeting sparked the porn pair to have "instant interest" in Kim K, who later said yes to the couple's proposition while joining them and other couples inside a Culver City Wyndam Hotel suite – the spot where the three-way is said to have gone down.
Here's what Julian St. Jox had to say
"She wasn't known at the time at all, not like today, but for everyone who frequented these parties, she was interesting because she was a new face. [Kim] looked like she was enjoying herself very much. She was a little submissive, but she was good. She knew what she was doing. She was very responsive to me."
That's said to be just a taste of the details Julian St. Jox has in store, as the adult entertainer's taped breakdown could be released as early as Monday on RadarOnline. This as sources say the porn actor prepares to shoot a parody surrounding his encounter with Kardashian and Emily Ann.
Here's the drop:
"Julian did an exclusive deal with Star magazine, he ain't gonna talk to you until the no-compete expires.

During the Star interview, he tells it play by play. There's no way Kim could deny this, Julian passed his polygraph test.

Another swinger, who witnessed Julian smashing Kim, was also talking to the people at Star. When Julian heard about it, he decided to sell his story too."