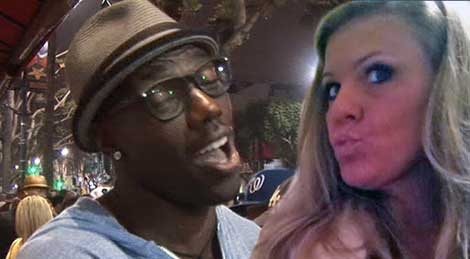 Just a couple of weeks after their marriage, Terrell Owens' new wife, Rachel Snider threatened to file for divorce claiming the former footballer only married her to secure a $2 million mortgage.
Now, according to news outlets Owens has filed for divorce on his own behalf claiming the marriage only lasted three days and demands his wife pay his legal fees.
Here is what Rachel Snider has to say:
"How nice of him to run to the courthouse when I was in the hospital – and on Valentine's Day no less. If money isn't an issue – why doesn't he have an attorney?"
Is one Terrell Owens baby mama offering to reduce the deadbeat-dads support obligation in return for spending a minimum of 6-hours time with the daughter they share, Dasha? Of course! Just ask Melanie Smith.
via RhymesWithSnitch