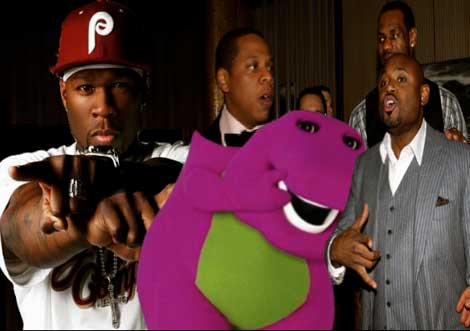 "He's Always Gearing Up For Something That Never Happens"
From the looks of it, Steve Stoute's been patiently waiting it out, for the perfect time to launch an attack on 50 Cent. The former record exec-turned brand marketer appears to have used his current "The Tanning of America" spot in the limelight to fire at Fif. This, during the recent promotions of the Stoute-inspired VH1 Rock Doc. Know why? Because a Fiddy refused to compromise with Stoute's cruise-aids!
"He's the guy that will have you come to speak to him for confirmation, and then can't find his way to answer the telephone.. but then run his way to you as soon as the deal is already in place to try to get himself in the middle of the deal." ~50 Cent, on Steve Stoute
That's how Fif broke Stoute down to a common coattail rider, back in Most recently, about five-months later — and just days after word broke that G-Unit had fizzled — Stoute took to HOT 97 radio airwaves to drop his retaliation aimed at damaging Fiddy's industry rep. Don't believe me.. Ask Angie Martinez.
"He hasn't had a hit in a really long time. He has not made anything musically that's changed in a very long time." ~Steve Stoute
Here's what Stoute — who's behind VH1's Rock Doc "The Tanning of America – One Nation Under Hip Hop" — had to say about Fif:
"I think that he's trying to get back. But those guys [Dre, Jay, Puff… Kanye…] music is a great platform. If you're an entrepreneur, you have… you're currently active making music, you're currently active touching people with albums, it makes it much easier to venture into business deals that will become successful using the music to parlay to get it done. And without having music that's meaningful over the last, probably the last great song he's made was "I Get Money"? Right? You know how long ago…? Kanye's put out three albums, four albums since then."
Did Puffy one smash a bottle over Stoute's head for "sending the wrong edit" of one of his singles? Of course.. Just ask Nas.