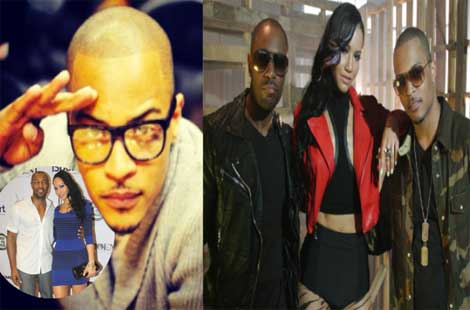 HSK Exclusive – Tank may belt out those love ballads, but he seems to have made a poor choice in women to love. That's because an insider exclusively tells HSK the TGT singer's girlfriend of three-years didn't question for one second choosin' up with T.I.!
OUCH! We're told that's why Kris Stephens is now signed to Grand Hustle Records.
According to our tipster, it's a situation Tiny Cottle has no problem with. Know why? Because the Harris' share an 'open swingin' relationship' … and T.I.'s Mrs. is gettin' in on the sex-action too! This, while Durrell 'Tank' Babbs is said to be left lingering at the Heartbreak Hotel.
"T.I. featured Kris Stephens on his song "Memories Back Then" … and Tank is trying to cover it up on the web by leaving compliments for Kris about the song, but he's really hurting."
Here's the drop:
"Kris packed up and moved out of spot she and Tank shared. It's the Triana Apartments over in Woodland Hills. T.I.'s now sponsoring Kris … and she's having threesome with him and Tiny."