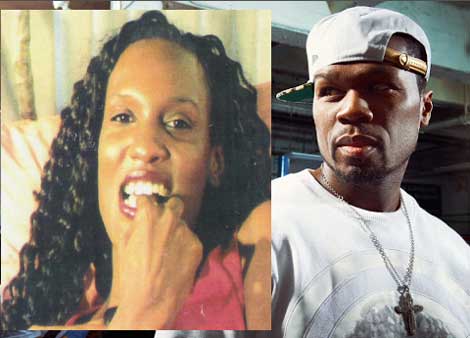 Book Of Lies?
50 Cent's name is one which Author Kola Boof may have wanted to reconsider listing as one of her "Top 20 Big Celeb Sticks." Know why? In her own words [from a recently released YouTube video], "The top twenty celebrity men with the biggest penises are from the 80's and the 90's."
The problem is, Fiddy didn't land his celebrity status until 2003 — with the release of his debut studio album "Get Rich or Die Tryin.'
The List — featured in Boof's 2006 'autobiography' "Diary of a Lost Girl" — "became a controversial bestseller." That's according to Publishers Marketplace. That read is now being dubbed "a book of lies."
Here's some of Boof's most recent spiel:
"I was part of something called the Alpharetta Secret Sister Society … a group of Black women, socialites and celebrities, some of them are Black actresses that you know. Pebbles knows what I'm talking about, Vivica Fox knows what I'm talking about, Tyra Banks would know what I'm talking about. We knew a lot of men … we all dated famous men, or slept with famous men. So we compiled a list … I don't think I have personally slept with any of the 20 men on the list."
This isn't the first time Kola Boof has been outed for capitalizing on LIES. She's the same woman who claimed to be Osama bin Laden's "sex slave," once dated Mike Tyson, Gerard Butler and the President of South Africa, "President Zuma" …. AND serving as "a secret agent performing spy missions for the Sudan Peoples Liberation Army." THIS IS HILARIOUS!!!
Check out Kola Boof recently runnin' her mouth:
If you're interested, here's Kola Boof's "Top 20 Big Celeb Sticks" …
• Arsenio Hall
• Actor John Amos
• Actor James Woods
• Deceased Actor John Ritter
• [TIE] Rick Fox & Vin Diesel
• Michael Jordan
• Actor Jon-Erik Hexum
• Jerry Seinfeld
• Kwesi Mfume
• Tao Pengiless
• Deceased Actor Ron O'Neil
• Marc Anthony
• Keith Sweat
• John Salley
• 50 Cent
• Mekhi Phifer
• Patrick Rafter
• Raphael Saadiq