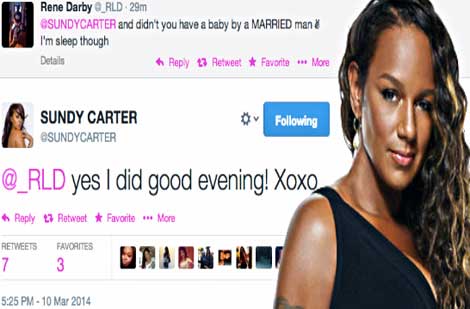 Sundy Carter has finally fessed up to having a child for a "MARRIED man." Shameless Sundy's social media confession comes well over a year after HSK exclusively confirmed the 'Basketball Wife' to really be a Basketball Baby Momma — to Married former NBA player, Larry Hughes.
We're now wondering if and how Carter's confession may affect Larry Hughes wife, Carrie. You'll recall.. back in September 2012, HSK first reported Carrie Hughes as a woman reported to refuse to accept the fact that Larry Hughes fathered Sundy's daughter, Kennedy. We're told the kid was born back in 2007, supposedly two years into the Sundy's cheating smash affair with the baller. Just ask Draya!
"His wife continues to believe that Larry is not Kennedy's father, DESPITE the paternity test and the obvious resemblance."
Is Sundy Carter a washed up heaux with an old rep for smashing dudes "because she likes the situation they're in"? Of course… Just as film director Zack Williams.