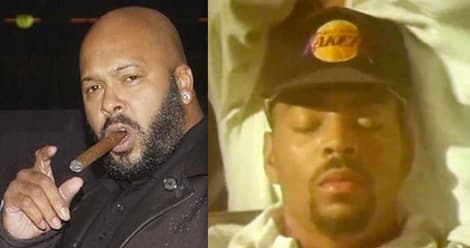 "I was the the best. And then, \o7 boom!"\f7." ~D.O.C.
HSK Exclusive – We've exclusively learned the details leading to the near fatal car crash that caused one former Ruthless Records recording artist to lose up to 70% use of his vocal chords. An insider tells HSK, that Suge Knight's reported drug-enabler tendencies are behind it all!!!
"The D.O.C. was riding high, literally and figuratively, as he drove his brand-new sports car west on the Ventura Freeway toward his Calabasas home late one November night in 1989. He almost died when a car accident resulted in crushing his larynx, permanently changing his voice." ~LA Times
According to our insider, not only was The D.O.C — real name, Tracy Curry — leaving Suge's house before the accident — Suge served the now-former rapper up with ecstasy pills and party girls … which D.O.C. is said to have indulged in, before getting into his whip. Don't believe me.. Just ask Snoop.
"When Suge saw D.O.C.'s condition at Cedars-Sinai, he found out dude couldn't rap no more. So, Suge shifted all his attention to Dr Dre."
Here's the drop:
"Suge and D.O.C. were good friends, and Dre and Eazy E didn't like him hanging out with Suge. They knew Suge was trying to get D.O.C. to be part of his production company. Suge made it a point to keep D.O.C. close.

After the accident, Suge planned for a year, or two, to get Dre away from Eazy. He ended up scaring Dre into becoming his business partner."