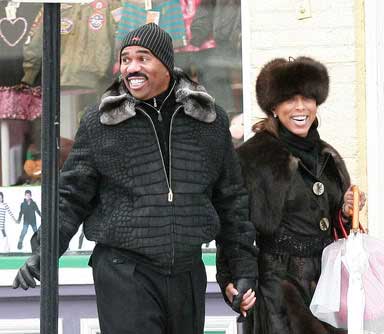 HSK Exclusive – Steve Harvey kicked his twin brother Terry Harvey out from residing at the Family Feud's host Atlanta mansion. Know why? Because Steve Harvey caught his wife Marjorie and his twin brother Terry smashing in his bed.
A source is saying Steve made his wife Marjorie sell their $8000 mattress that she was caught committing adultery on and the Family Feud host stopped wearing his wedding ring in October 2008.
The source went on to say Steve Harvey was done with Marjorie when he found out she was pregnant from either his brother Terry, or one of the other family members and friends that came to the mansion while he was on tour.
The drop:
"Steve never claimed the baby Marjorie was carrying in 2008 to 2009. Steve decided to keep Marjorie to protect his image that skyrocketed from his Act Like A Lady, Think Like A Man book that came out in December 2008.

Steve's books were about Marjorie being a perfect, beautiful and faithful wife. Marjorie never believed Steve's books were going to hit big. So, she told him 'He was dumb like his bodyguard Boom to ever write a book on relationships.

Marjorie used to laugh at Steve. But one day Oprah called Steve to be on her show and that's when Marjorie saw dollar signs and became the perfect wife."