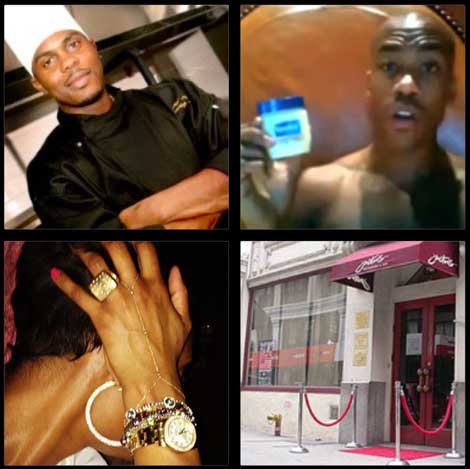 "He's swinging from both sides of the fence." ~Brendan Haywood, Charlotte Bobcats
Tasha Marbury: Basketball Beard!
HSK Exclusive – We've learned the identity of the REAL Chef Stephon and Tasha Marbury don't want you to know about, which could mean the four-years gone overseas "Basketball Husband" payed off chef Thurayyah Mitchell to help him cover-up his tracks. Know why? Sources say when the REAL chef — who Stephon Marbury was bromancing — left Puffy's umbrella, his NBA associates started to talk. That's said to have been the reason why a 32-year-old Marbury decided to flee to China. Don't believe me.. Just ask Brendan Hayward.
"There's no way any other professional athletes would wanna get dressed around this guy, because you gotta think something is a little, he's swinging from both sides of the fence." ~Brendan Haywood
A source exclusively tells HSK, during his five-years playing for the New York Knicks (2004-2009), Stephon Marbury began courting Robert 'Chef Rob' Gayle. That's after the pair first connected at Puffy's then popular Big Apple hot spot 'Justin's Restaurant' — which closed in 2007.
Here's the drop:
"Stephon would show up at Justin's all the time to surprise Chef Rob. He would secretly enter and leave the building through the back door.

He gave Chef Rob all kinds of expensive gifts … $20,000 pieces of jewelery, a Rolex watch with a diamond bezel. Now what dude goes around doing shit like that for another random dude … unless they're smashing? The pair were inseparable, and they'd leave the spot without being seen leaving together!"
Though we can't confirm exactly how long the Marbury-Gayle bromance lasted — or if it has even ended — we can tell you this… Chef Thurayyah Mitchell Came Up Over The Cover-Up … and so did Chef Rob!!!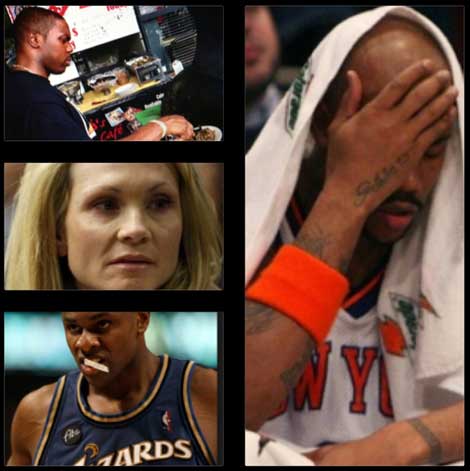 The 2006 summer when word broke of Stephon Marbury reportedly offering his personal family chef Thurayyah Mitchell "nearly $1 million so his wife and the Knicks wouldn't learn about it" — is around the same time when Chef Rob packed up and headed to Atlanta, opening the doors to his current eatery 'Rob's Caribbean Cafe'. That's an entire year before Puffy shut down Justin's NYC location!!!
Here's what's reported about the Marbury's PUBILC Chef ordeal:
"Stephon fired her in 2006, and Thurayyah complained that she'd been the victim of sexual harassment. Stephon said he had considered their relationship "consensual" but offered her $900,000 to keep quiet. She claims they had sex five times. He stopped making the payments around January 2010 after paying her $600,000, so Thurayyah took him to court."