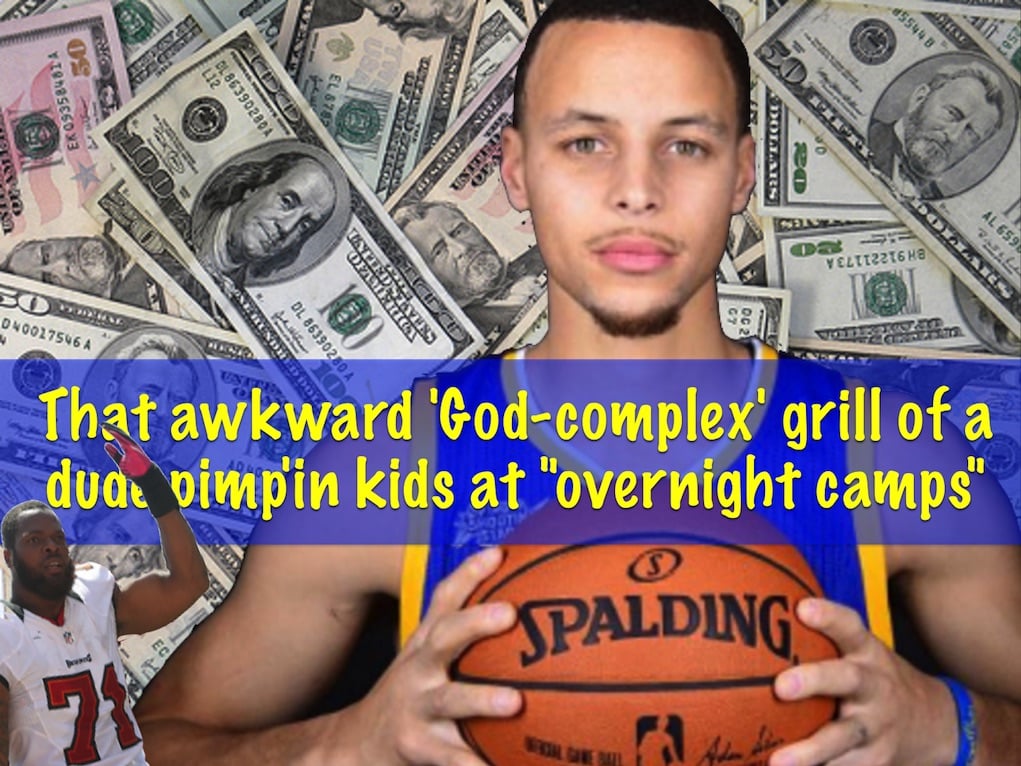 "It's like, how much money do you need before you start giving back for free?" Michael Bennett, Seattle Seahawks Defensive End
HSK Exclusive — Apparently, $26M isn't enough to spark Stephen Curry to start giving back for free. Matter of fact, it appears the NBA's MVP is letting all that All Star dust get to his head, charging upwards of $2,000 a kids at his "Warriors Basketball Camp". Just ask Michael Bennett — the Seattle Seahawks Defensive End who recently blasted Curry for bank'in off of each kid at his "overnight camp", rather than show them Love. Far from, in fact … having collected at least $2K from a reported 200 kids, Steph Curry walked away with more than $400,000!!! To add insult to injury … not only did Curry fail to show even a shed of regret — nonetheless, display any signs of intent for recourse intent — the Golden State 'Warrior' came back to the table to plug Seth Curry's basketball camp … noting admission 'is just' $200 per kid!!! SHAME.
"We must lace our shoes and run toward freedom — cheering on those who are training and running our same race, picking up those like us who get tired or distracted on their way to the finish line." — Martellus Bennett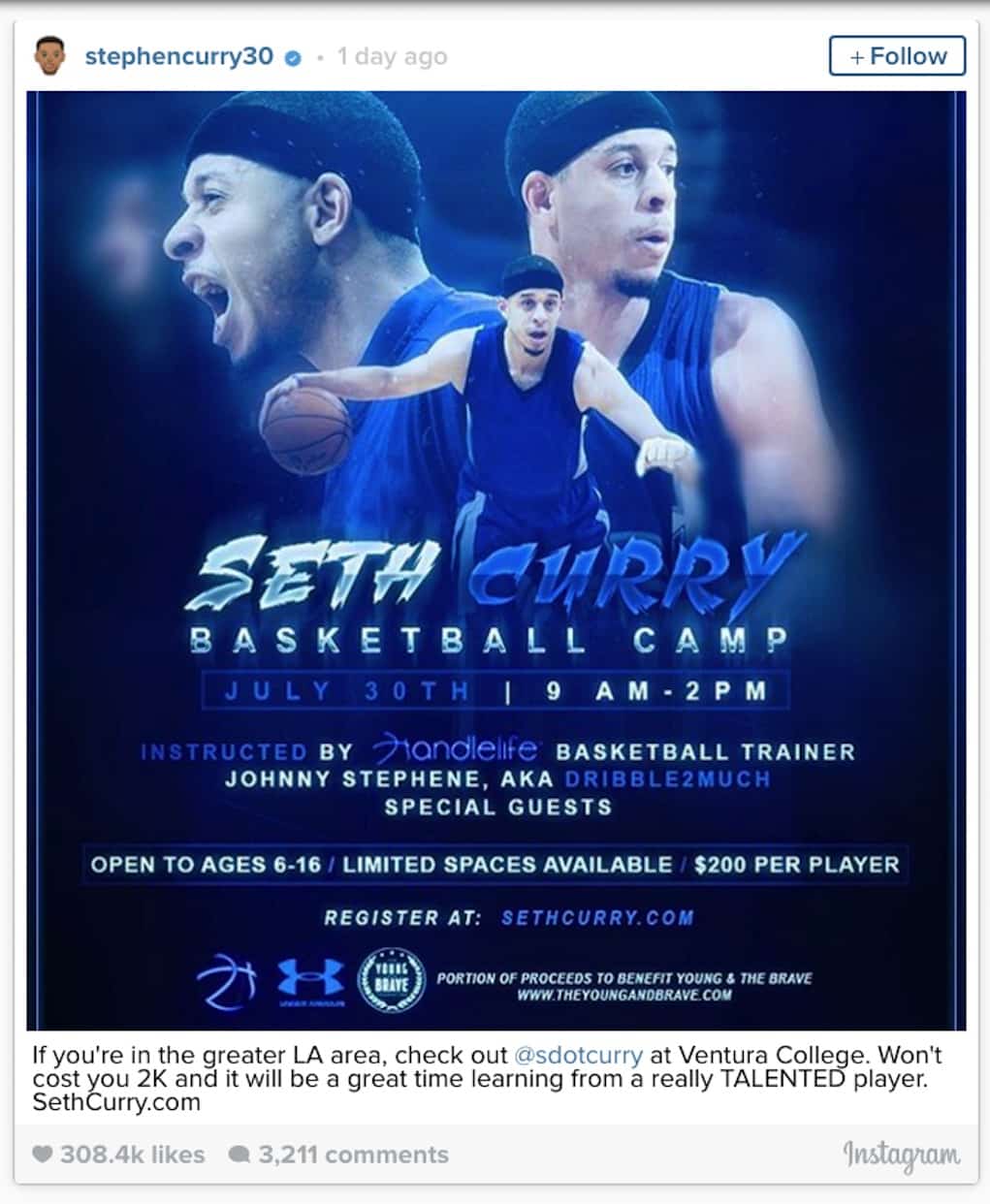 Meanwhile … NFL defensive end Michael Bennett (whose recent football camp, held in his state residence of Hawaii, was delivered to local youth — free of charge), during which time the youth held a traditional 'haka' war cry dance. "A lot of young players, they like to bring the ball back to the defender," said Martellus Bennett. "But Michael goes right around them." Now, Steph Curry seems to be catchin' some of that universal karma over his $120.00 kicks. "The Curry 2 Low's resemble either nursing shoes," writes a critic. "Or a pair of all-white trainers that a stereotypical middle-aged white male with conservative political views would wear." So, while the Curry Brother's continue their pitiful, compassionless plays on The People, the Bennett brothers prove to be standing consistently strong in their proactive actions made to make a difference. Most recently, with Martellus Bennett penning an open letter addressed to "Dear Black Boy … "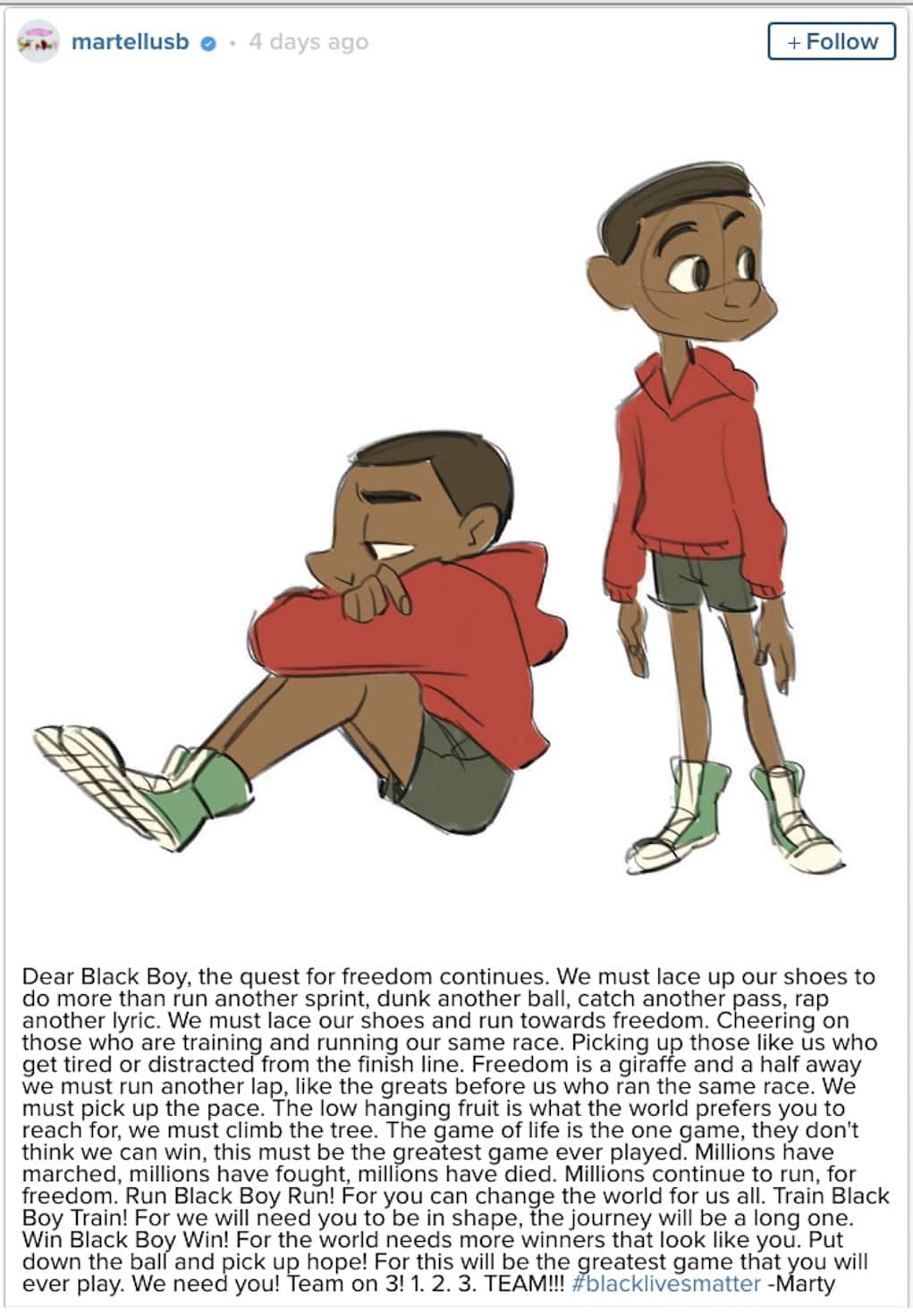 Here's what Martellus Bennett said during a television interview:
"Where I come from everybody feels you gotta dribble a ball or catch the ball to get out of your situation. But there's creative writing, there's band … I grew up in a band playing three instruments … kids who wanna rap, they never think about doing soundtrack for movies, which is big money … or doing films, or designing clothes. There's alot of kids who could get scholarships for so many different things, but they're never introduced to it."
Here's what Michael Bennett had to say about Curry's "Overnight Camp":
"I see a lot of different athletes come through Hawaii whether it's Steph Curry or whoever it is. They all come here and it makes me mad, because I live in this community and I understand this community — that there's so many kids who can't afford to pay such a high amount of money," he said. "In my mind it's like, how much money do you need before you start giving back for free? And I think a lot of athletes should start focusing on that."
And he didn't stop there.
"If you do have a camp and you charge money for it, you need to make sure that money that you take from this community, you give back to the kids that are paying for the camp. These are the kids that live here. When you leave Hawaii and you go back to wherever you're at, or you come here and you go back from this vacation you leave with a piece of paradise, but these people still live here every day."
Bennett has given of his time and money since moving to Hawaii (his wife is from the state), and believes that professional athletes should do the same.
"That comes from my mom and dad growing up in the community and always giving back," Bennett said. "My dad was a part of the school board [in Houston], my mom worked in the district for 20 years, and I just always wanted to give back and always make it free. Growing up, I know I wasn't able to afford the things like go to to certain camps or do certain things."
Dear Black Boy,
The quest for freedom continues.
We must lace up our shoes to do more than run another sprint, dunk another ball, catch another pass or rap another lyric.
We must lace our shoes and run toward freedom — cheering on those who are training and running our same race, picking up those like us who get tired or distracted on their way to the finish line.
Freedom is still a giraffe and a half away. So we must run another lap, like the greats before us who ran the same race.
And we must pick up the pace.
The low-hanging fruit is what the world prefers you to reach for, but we must climb the tree. Climb higher and you will discover that the fruit at the top of the tree is better than gold.
The game of life is the one game they don't think we can win, but this must be the greatest game ever played. Millions have marched, millions have fought, millions have died. Millions continue to run … for freedom.
Run, Black Boy, Run! For you can change the world for us all.
Train, Black Boy, Train! For we will need you to be in shape because the journey will be a long one.
Dream Bigger, Black Boy, Dream Bigger! For your dreams are valuable. No one can take those from you. You deserve to dream the wildest dreams and chase those dreams the same way you chase a loose ball in the fourth quarter, a running back breaking free down the sideline or a fly ball in the outfield.
Set Goals, Black Boy, Set Goals! Slam-dunk those goals the same way you do an alley-oop. For your goals in life are worth so much more than two points. Shatter the glass!
Exercise, Black Boy, Exercise! Exercise your right to speak your mind, to pursue happiness, to seek peace and prosperity, to avoid conformity imposed by the small minds of society. Exercise until you're drenched in sweat.
Think, Black Boy, Think! For your mind is your greatest tool.
Move Forward, Black Boy, Move Forward! For we know where we've been, but where will you take us next?
Win, Black Boy, Win! For the world needs more winners who look like you.
Pick up hope, get in the game and show us what you can do. For this is the greatest game that you will ever play. We need you!
Team, on three! One. Two. Three. Team! #blacklivesmatter